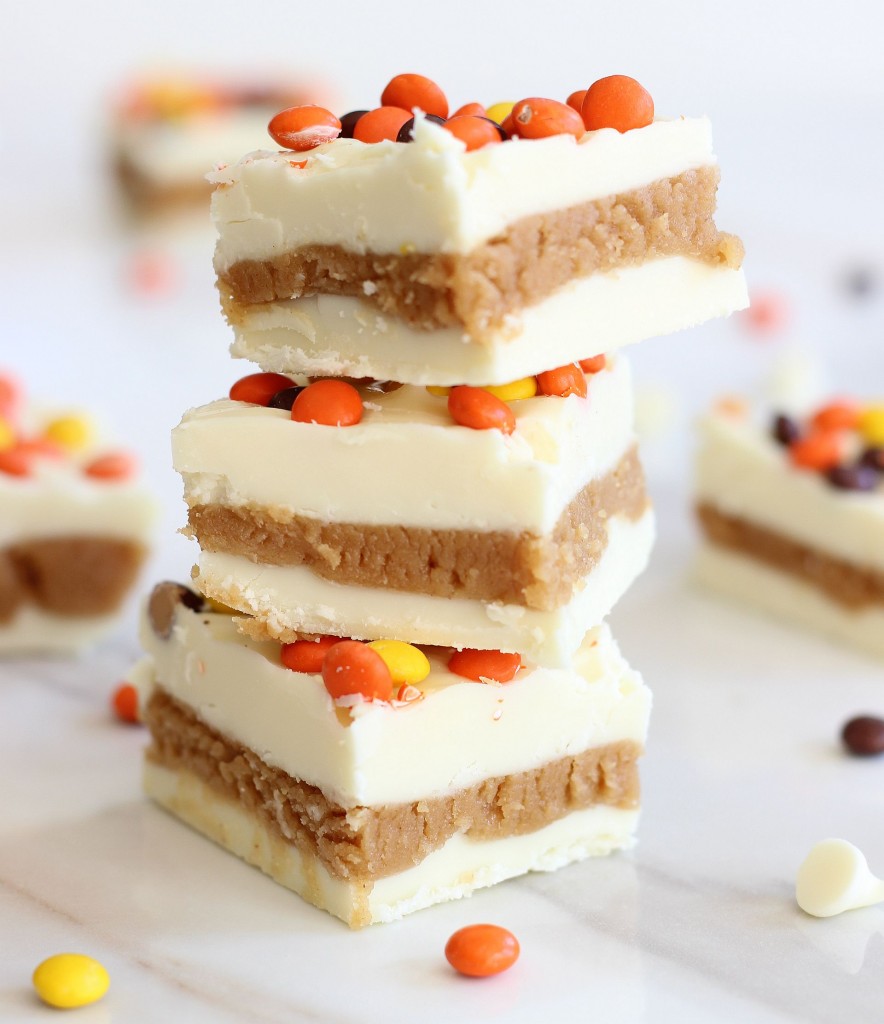 I heart peanut butter. A lot. That's no secret around these parts. I've talked before about how I eat peanut butter every single day, sometimes several times a day. I know I'm not alone. Lots of you are PB lovers too. That's part of why we're friends! 🙂
It seems like most people go pretty bonkers for the classic chocolate + peanut butter combo, and I share that sentiment. When I started dating my high school sweetheart, we bonded over a love for Reese's peanut butter cups. Seriously. It was a match made in heaven, together forever. I mean between me and the Reese's. High school sweetie and I are kaput, but that's a whole other story. Ancient history!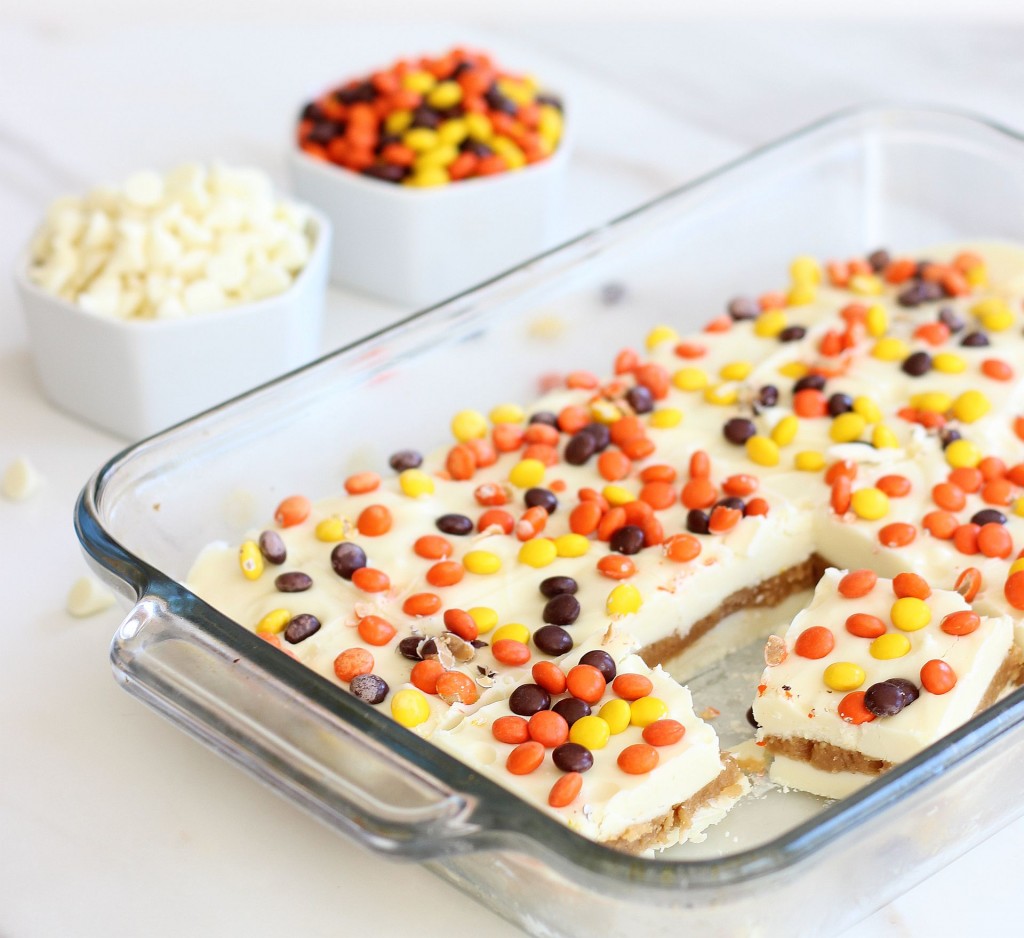 As much as I love a traditional Reese's with milk chocolate, my heart truly belongs to white chocolate Reese's cups. Yet, this is the only time of year I see them! Maybe they are a seasonal item and here for Halloween. I sure wish they were available year-round.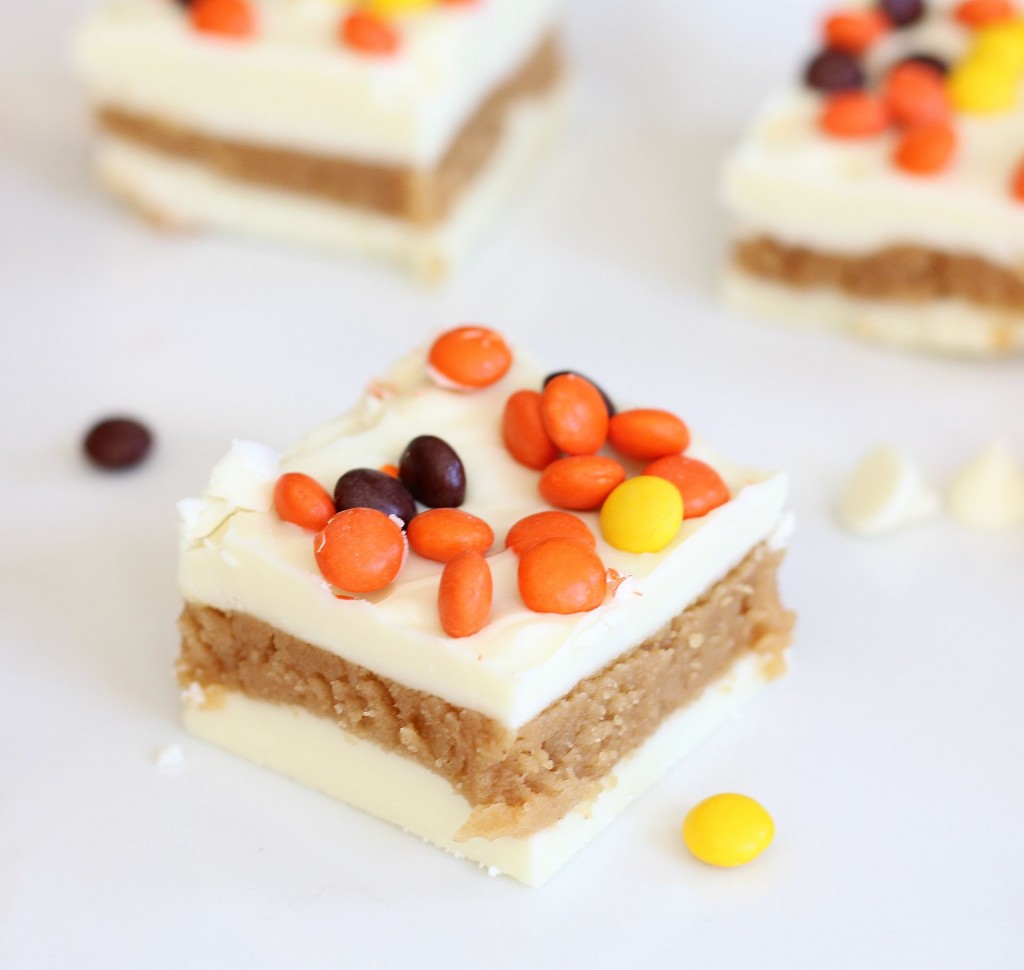 No matter. Now we can make them ourselves!! Well, these aren't exactly replicas. Because ours are going to be in bar form. Life = simplified. I have neither the time nor patience (nor talent) to roll up little balls and dunk them prettily in chocolate! I wish I had those skills, but it just never works out in my favor. You know how it goes, you drop one in the chocolate bath and you're fishing it out, but it's getting all mushy and deformed. Not so pretty anymore.
But in bar form? Color me happy. It's worlds easier to make them this way, right? Plus, the layers and stripey look are just kind of fun, don't you agree? Nod your head.  Great, we are on the same page!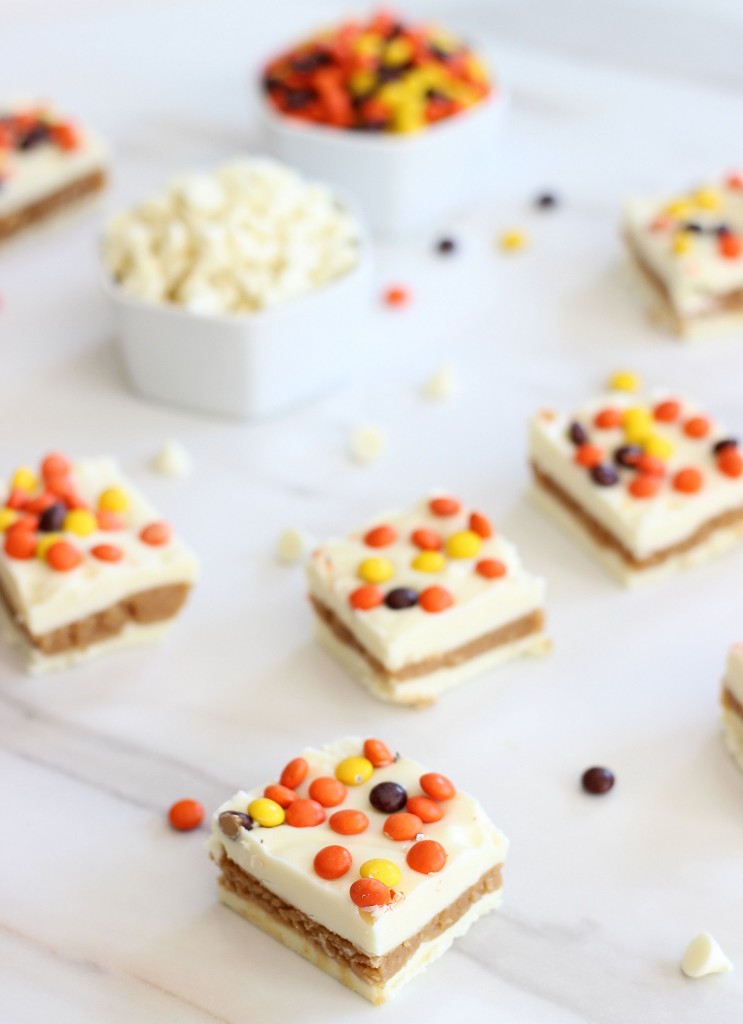 One of the best things about these, besides their incredible and heavenly taste, is that they're so easy. I'm sure you predicted I would say that!! But it's true. Also, they only require a handful of ingredients, most of which you probably already have on hand. Please tell me you have PB on hand? I go into shock every time I'm at my best friend's house and see that she doesn't have any.  How are we even friends? Let alone BEST friends? Mystifying.
Meet YOUR new best friend: creamy and smooth white chocolate layers sandwiching a peanut butter truffle center!
White Chocolate Peanut Butter Truffle Bars
Creamy and silky layers of white chocolate with peanut butter truffle in between!
Author:
Sarah @ The Gold Lining Girl
Ingredients
2 - 12 oz. bags white chocolate chips
4 tbsp. shortening
1½ c. creamy peanut butter
3 tbsp. butter, softened
1 tsp. vanilla extract
2.5-3 c. powdered sugar
1 c. mini Reese's pieces
Directions
In a large saucepan on low-medium heat, melt the white chocolate and shortening.
Whisk vigorously until very smooth.
In a greased 7x11-inch baking dish or pan, spread slightly more than half the white chocolate evenly into the bottom. It needs a sturdy base. Allow to set.
Meanwhile, in a large mixing bowl, combine peanut butter, butter, vanilla, and powdered sugar until well-combined. Add enough powdered sugar that it's very thick and not-greasy, but not so that it's crumbly. It needs to adhere to the chocolate!
Using your hands, press the peanut butter mixture over the white chocolate in an even layer.
Spread remaining white chocolate on top of peanut butter layer.
Sprinkle mini Reese's pieces evenly over white chocolate, and press them lightly into the chocolate. The little devils want to pop off, so press them in a bit.
Allow to set.
Store in the refrigerator. Cut into bars. Enjoy!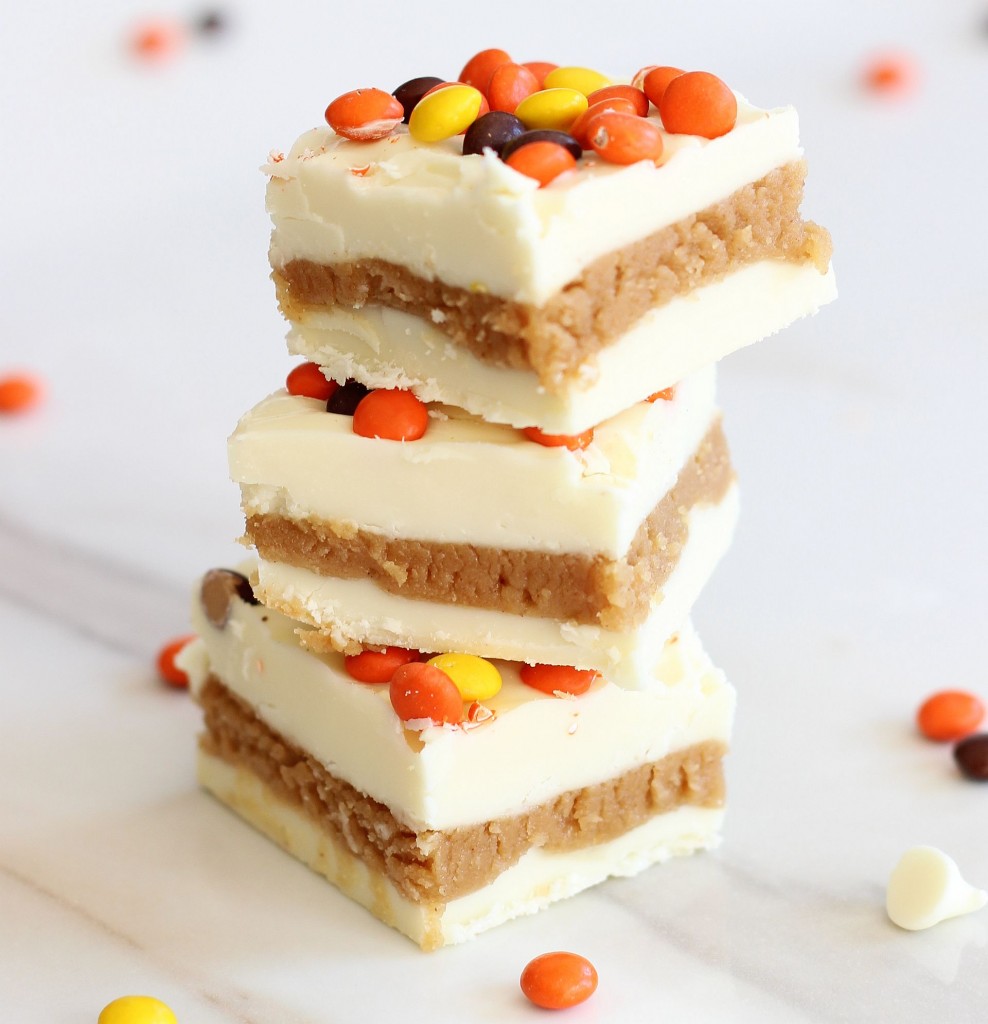 Not really a fall recipe, but don't the Reese's pieces make them look Halloween-ish?