No-bake white chocolate peanut butter cheesecake with a thick peanut butter blondie crust that just won't quit. This one is a show-stopper!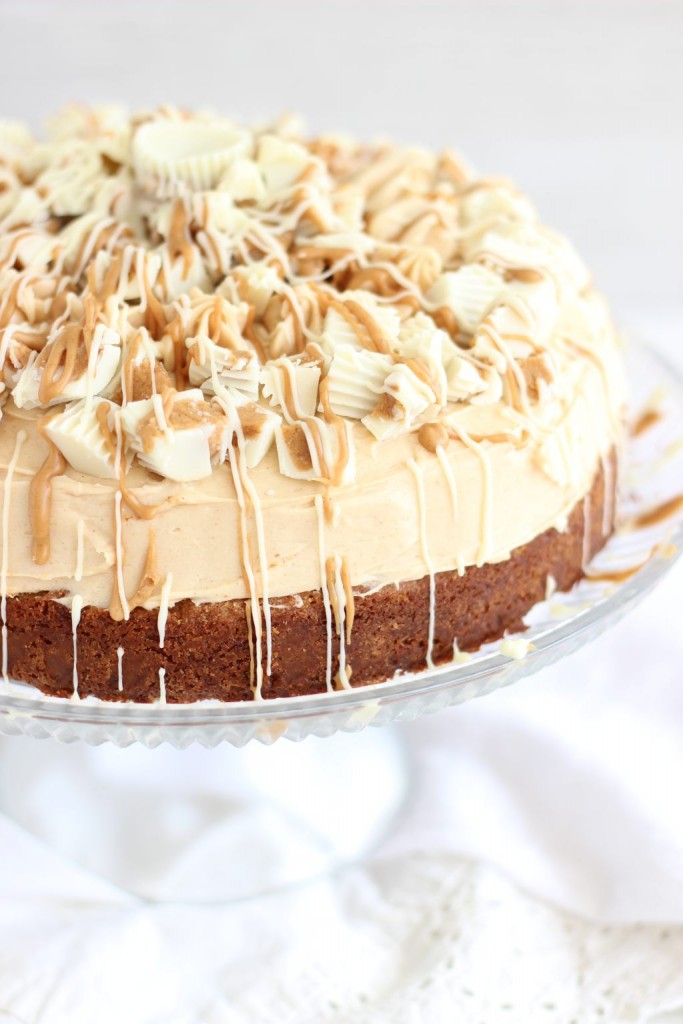 How many pounds of Reese's cups can you fit into one dessert?? Let's find out.
This recipe is one of several pride and joy recipes for me! I love all the recipes that I share, but I do end up having personal favorites, and ones that I love a teeeeeny bit more than others.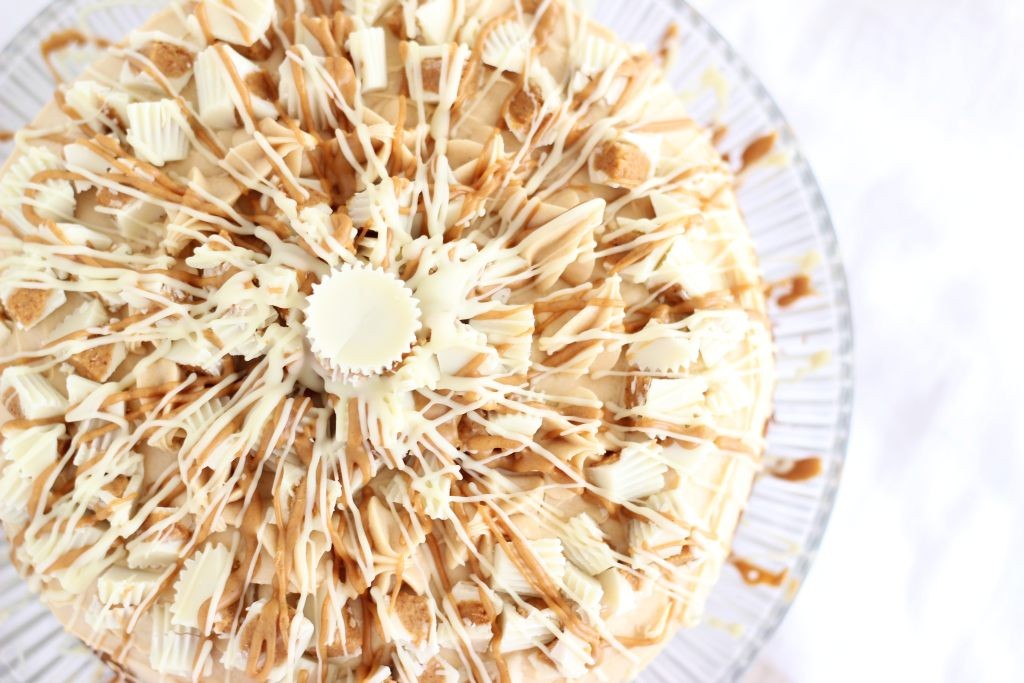 I wouldn't share anything that wasn't stupendous in the first place. It has to be a winner or it doesn't make the cut and it ends up in the annual recounting of my recipe fails. It has to be great according to my own opinion, and the opinion of the friends, family, co-workers, and sometimes neighbors.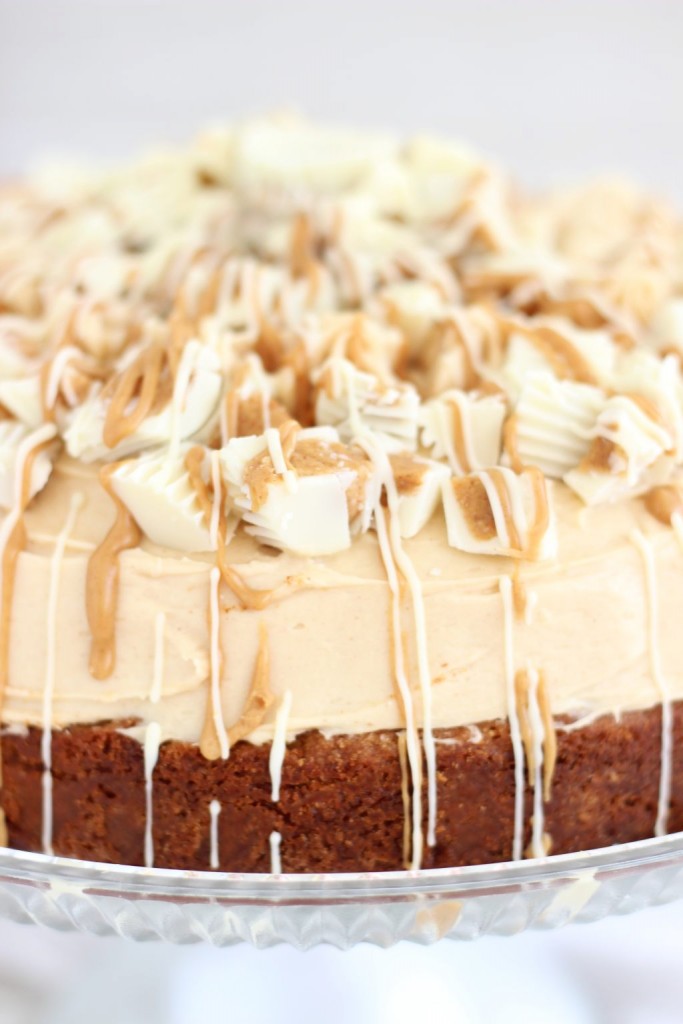 One of my neighbors brings over fresh eggs from their chickens, and so I return the favor with baked goods, often using said eggs. The other neighbor drops off tomatoes or grapefruit here and there, and also cooking magazines. It's a pretty good set-up on either side of the house.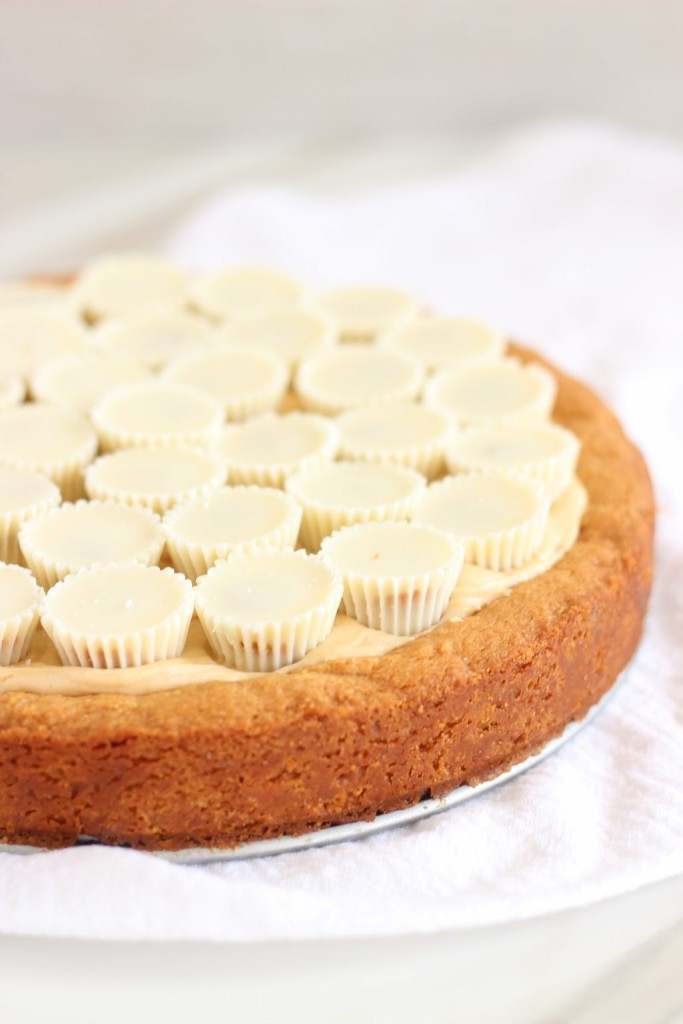 Among my usual test subjects, it was unanimous: this White Chocolate Peanut Butter Blondie Cheesecake is as decadent as it gets. It would be hard to top this. And it's totally amazing.
To me, the only other recipe that it rivals in terms of decadence is my Peanut Butter Cup Brownie Torte recipe. That is still one of my absolute favorite recipes of all-time. Of course, it's no coincidence that some of the most decadent recipes I have are based around peanut butter. That incredible torte is stacked high with layers of fudgy brownies, peanut butter buttercream, chocolate ganache, and whole, full-size Reese's cups. It's truly spectacular.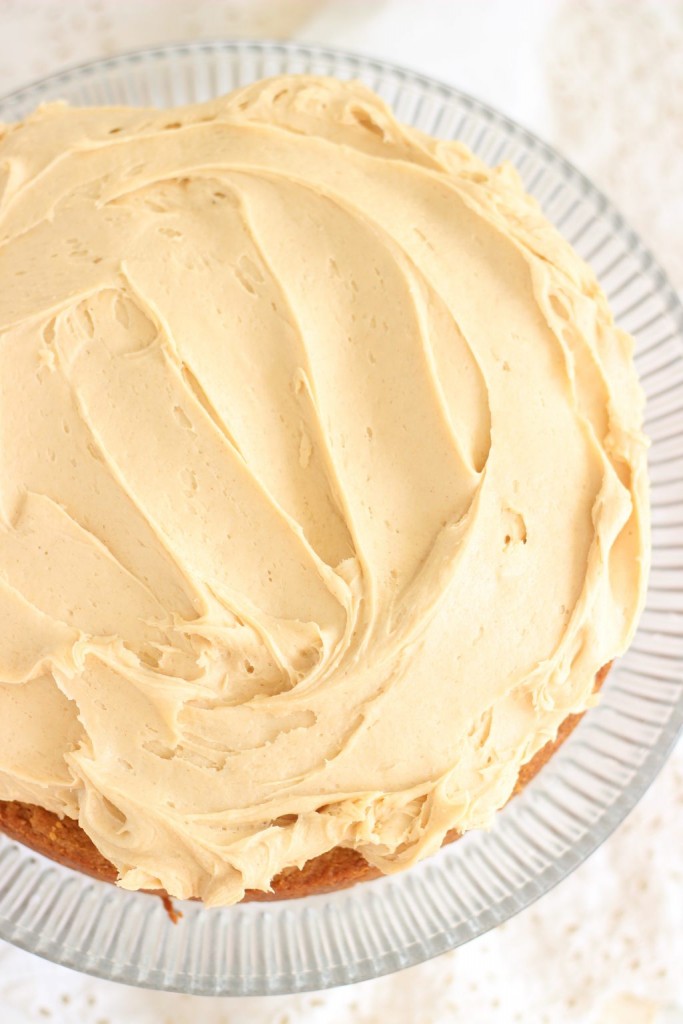 This White Chocolate Peanut Butter Blondie Cheesecake recipe is nothing short of spectacular either.
The crust is basically a massively thick and soft peanut butter cookie. It's technically a double batch of my Easy Peanut Butter Cookies recipe (only 3 ingredients to those cookies!). Baked to perfection, still soft and chewy in the center and crisp on the edges, this super thick peanut butter blondie is unreal all on its own. But we aren't gonna stop there.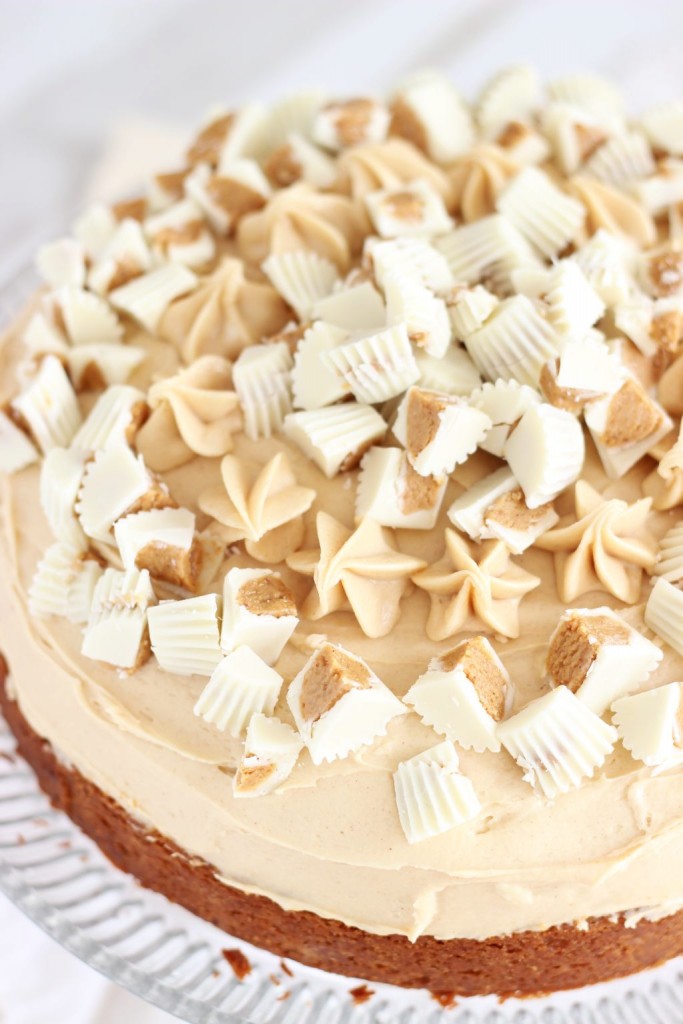 Once the crust cools, I covered it with an entire layer of white chocolate Reese's peanut butter cups. Then I loaded it high (really high!) with a no-bake white chocolate peanut butter cheesecake. All in all, the cheesecake layer is nearly two inches thick.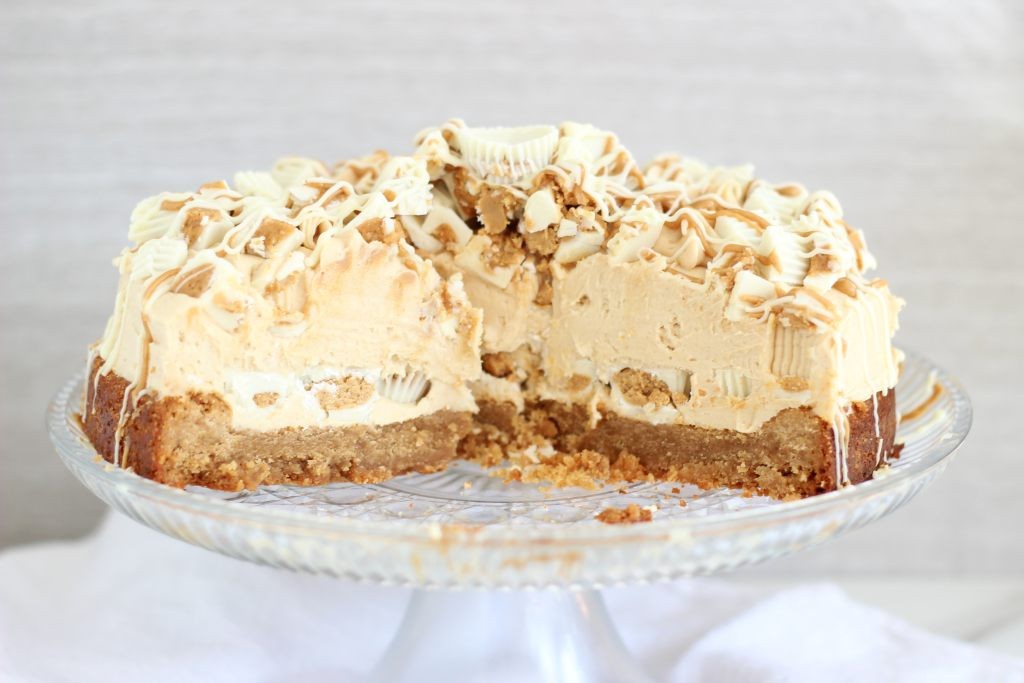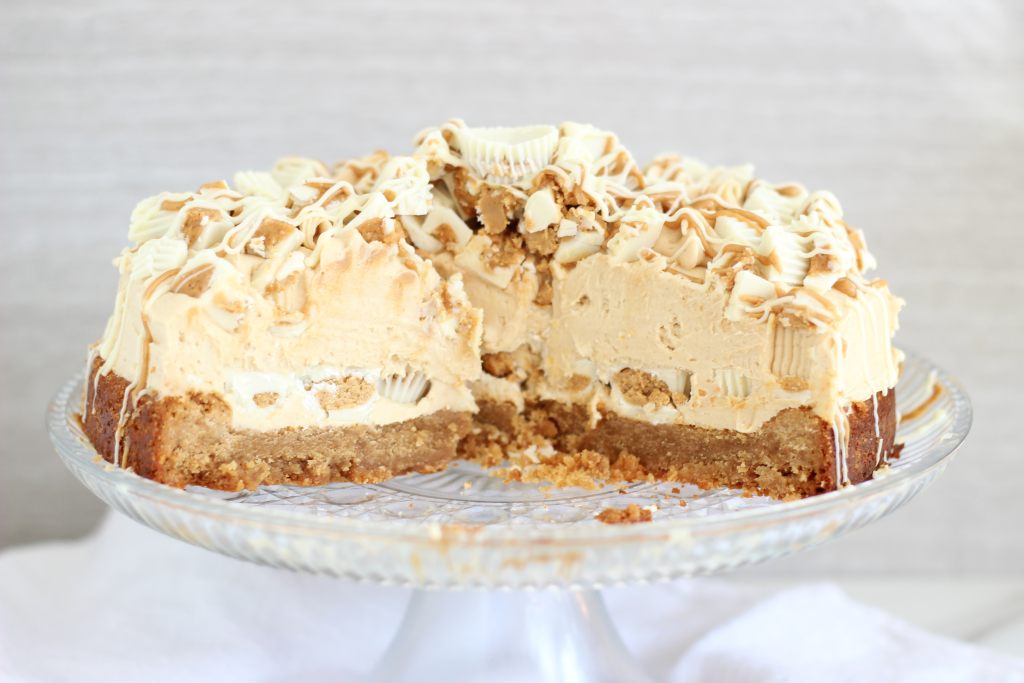 To top it off, I sprinkled it generously with chopped white chocolate Reese's peanut butter cups, a drizzle of melted peanut butter, and a drizzle of melted white chocolate.
Let's put it this way – if you're unsure about this dessert, besides the nearly two-inch thick layer of cheesecake and the inch-thick layer of peanut butter cookie crust, it has a pound and a half of white chocolate Reese's cups in it!!!