This is my Grandma's No Bake Peanut Butter Pie in the form of a dip. But it has more cream cheese, so it's like peanut butter cheesecake dip. With a touch of honey and cinnamon too. It's sweet, with a bit of warm spice. I love honey and peanut butter together, and I always marvel at how well cinnamon complements peanut butter too. It's unexpected, but it totally works. Basically, you're getting peanut butter cheesecake dip, plus honey and cinnamon, and it's just a huge, generous bowl of super simple, sweet, creamy, rich, peanut butter goodness.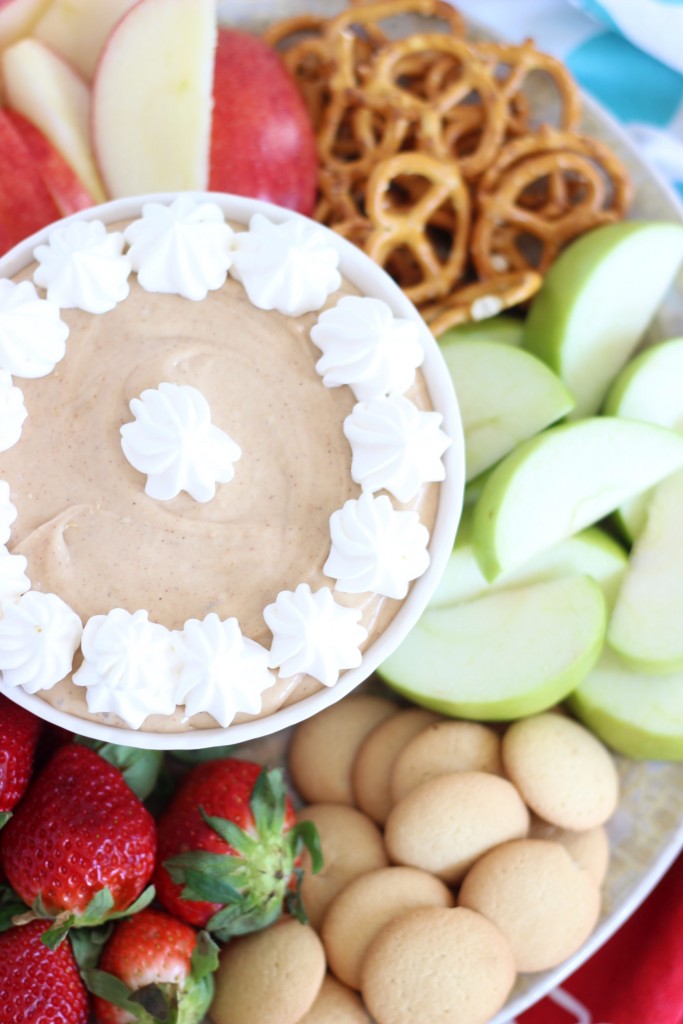 Even better, you can prep and eat this dip in 5 minutes. It's helpful if you have a little time to chill it, but it's not necessary. So all in all, you only really need 300 seconds of time for this recipe. BEAUTIFUL. A 5-Minute Peanut Butter Dip recipe is going to be ultra-handy for summer picnics.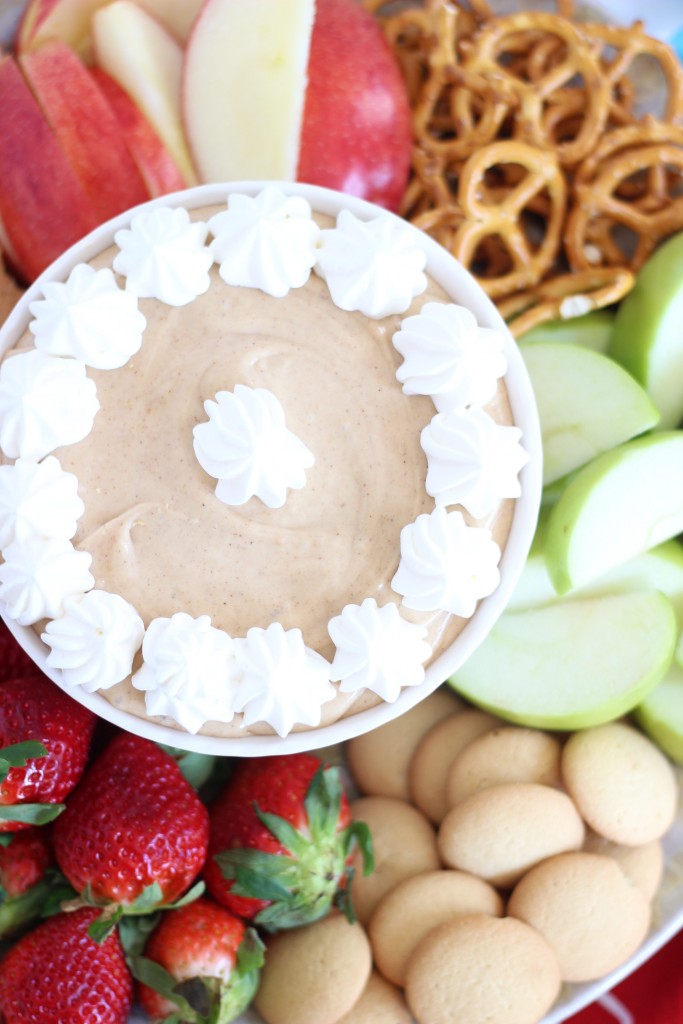 You can dunk so many different things in this dip. Lots of options. I put together a nice platter of graham crackers, Nilla wafers, pretzels, and fruit. Apples are always excellent with peanut butter, and I love strawberries because it gives me PB&J vibes. Peanut butter on graham crackers is still one of my very favorite snacks to date, and it inspired these Buckeye Graham Crackers. Pretzels, well, the sweet and salty combination is delightful! But you could also dunk oatmeal cookies, shortbread cookies, Oreos, banana slices, or even celery. It would be such a popular tray for summer parties and BBQs! 'Tis the season for those.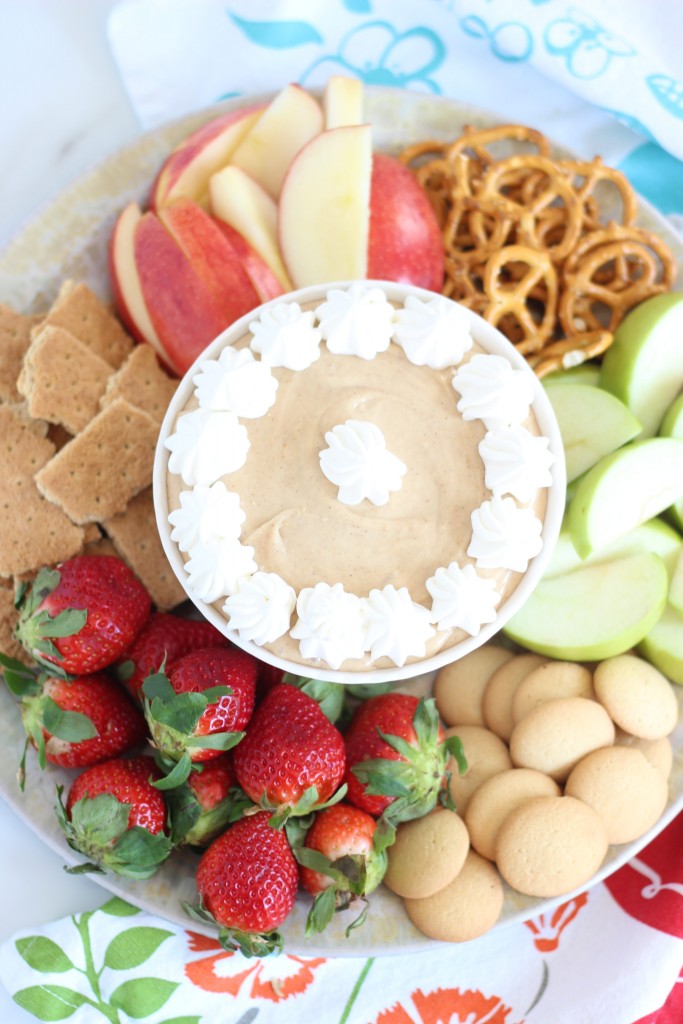 It was inspired by my Grandma's No Bake Peanut Butter Pie recipe, which is THE most popular recipe on my entire blog, of nearly 300 recipes. That pie went viral one day, and never stopped. It makes me so proud and happy that it's one of my Grandma's recipes that happens to be the most popular. It's the most simple pie in the world, and you can prepare it in about 10 minutes flat, but it's sooooo rich, creamy, and peanut-buttery. There are good reasons that it's the most popular recipe on my blog, and it's definitely not the photos! Eek.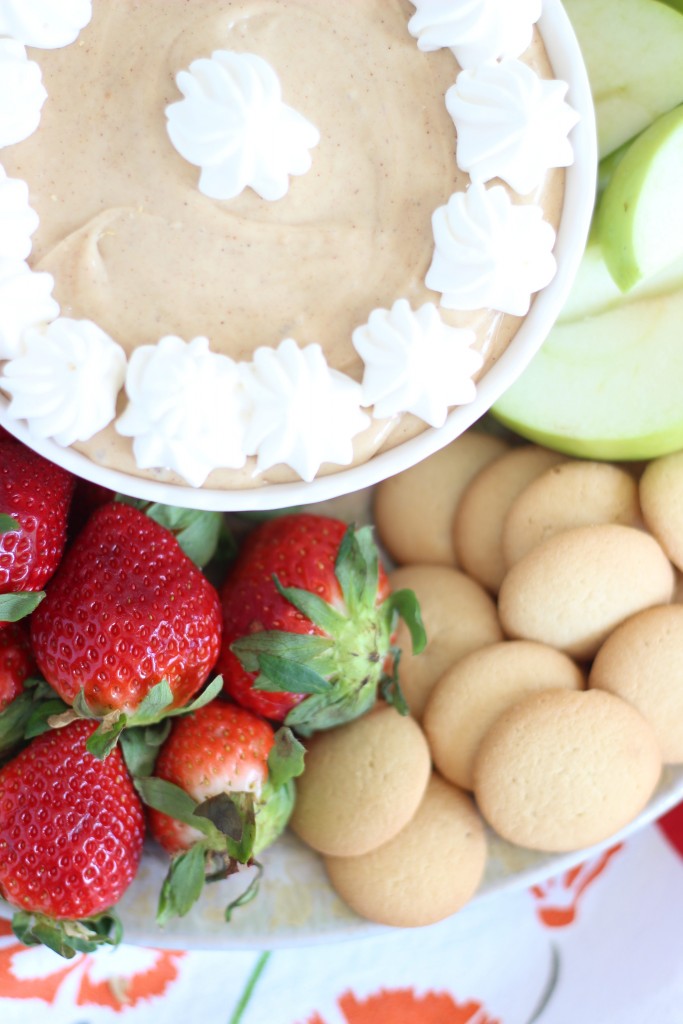 Since that ridiculously popular and awesome pie was the inspiration for this ultra-quick and delicious 5-Minute Peanut Butter Dip recipe, I know you will not be disappointed!