A super simple, classic southern pie, but with a coconut twist! This Coconut Chess Pie doesn't get much easier, and it's a sweet-tooth and coconut-lovers' dream! This Coconut Chess Pie produces an ultra sweet, rich, creamy, decadent coconut-kissed, mind-blowing dessert!
To easily view all of the blog recipes, follow along on Pinterest!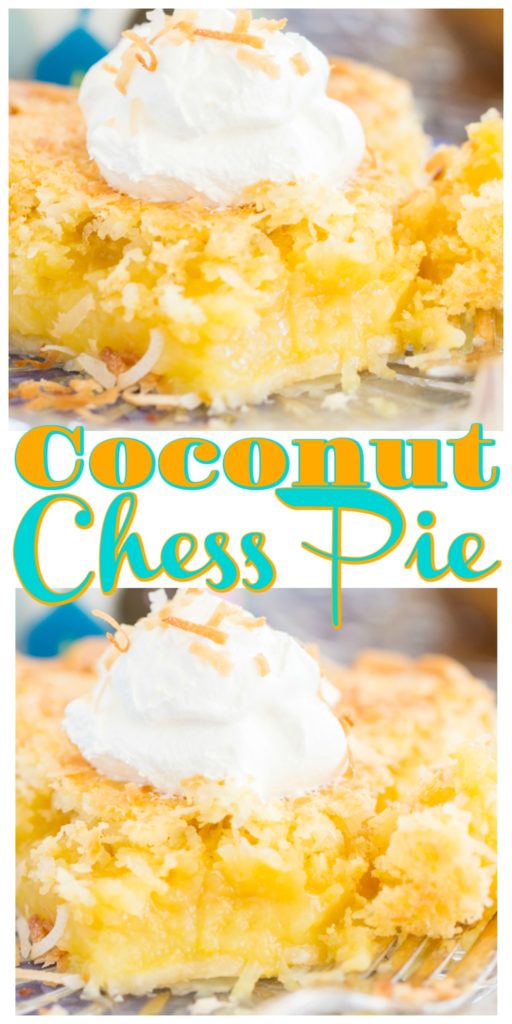 If you're still deciding what to make for Easter, let me introduce you to this beautiful Coconut Chess Pie!
Actually, let's back up for a sec and we'll talk Chess Pie in a minute. It could not feel any less like Easter is around the corner, right? Everything is overshadowed by the "invisible enemy," isn't it? It consumes a lot of mental energy, and I have barely thought about Easter at all. What about you?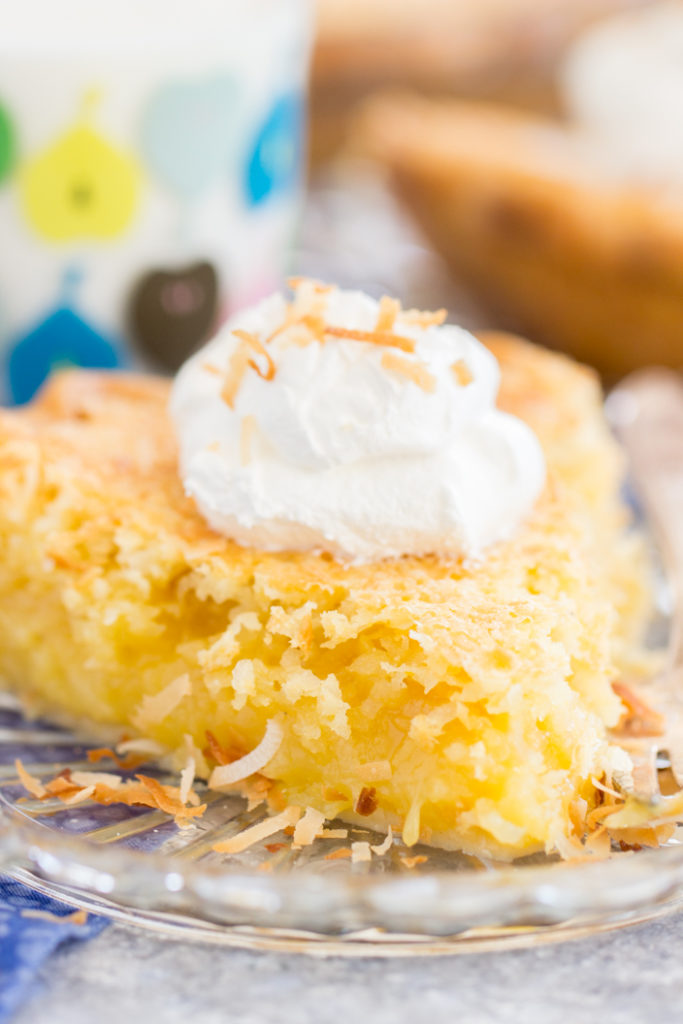 I wish I was more excited, but it's a really strange time. Currently, every day feels the same, and I guess Easter will also feel like just another day this year. Let's all try to make it special in some way because it IS a special day, if you celebrate it, but it will have a slightly different feel, for sure.
My SIL asked if we want to FaceTime for egg-dying though, and that is something fun to look forward to. Except my S.O. is weird about dyes so I'm currently searching Amazon for natural egg-dying kits. Ha. Something tells me the colors won't be as vibrant.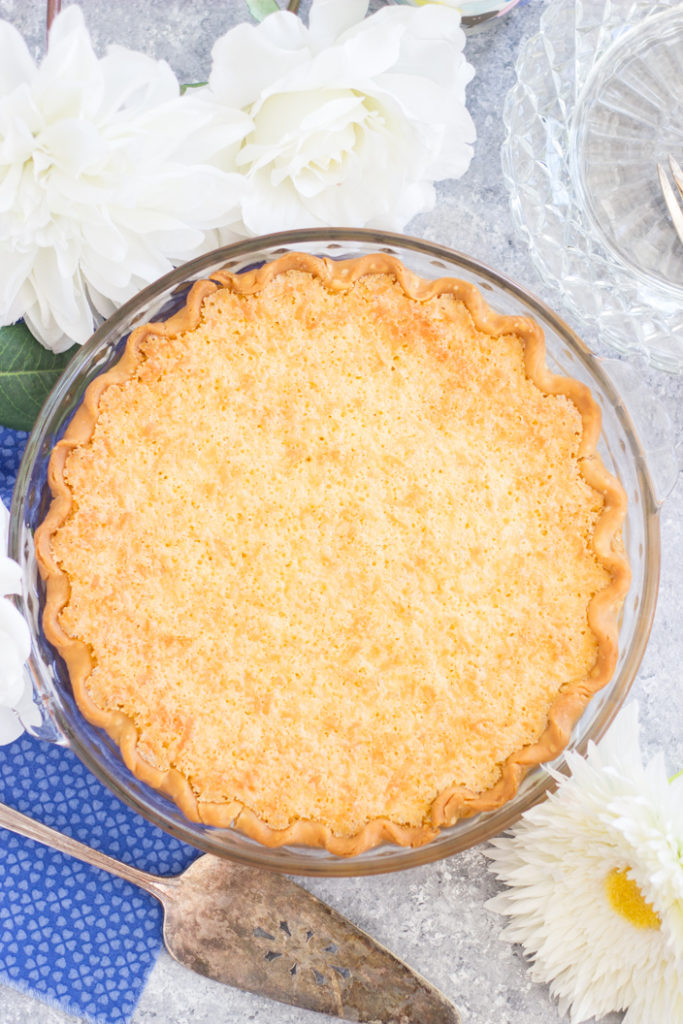 Anyway, I hope you and your loved ones are all doing okay. I hope you have what you need, and are staying safe and healthy. Finding pantry necessities and paper products at the stores is still touch-and-go, but I hope you've managed to procure the basics.
Most (if not all) of us will be not be hosting big groups for Easter this year, so I'd normally tell you that you can "wow" and impress your guests with this pretty Coconut Chess Pie, or that a dessert "feeds a crowd", but what does that really matter at this moment?? More importantly this year will be: can you get the ingredients??

The answer for this Coconut Chess Pie is: most likely, yes. Chess Pie is an excellent option because the ingredients are as basic as it gets. They're likely in your fridge and pantry already… sugar, butter, cream or milk (even evaporated milk will work), vanilla, eggs, and a few other accessible odds & ends.
Eggs were tricky there for a week or so, but we've not had trouble recently. You?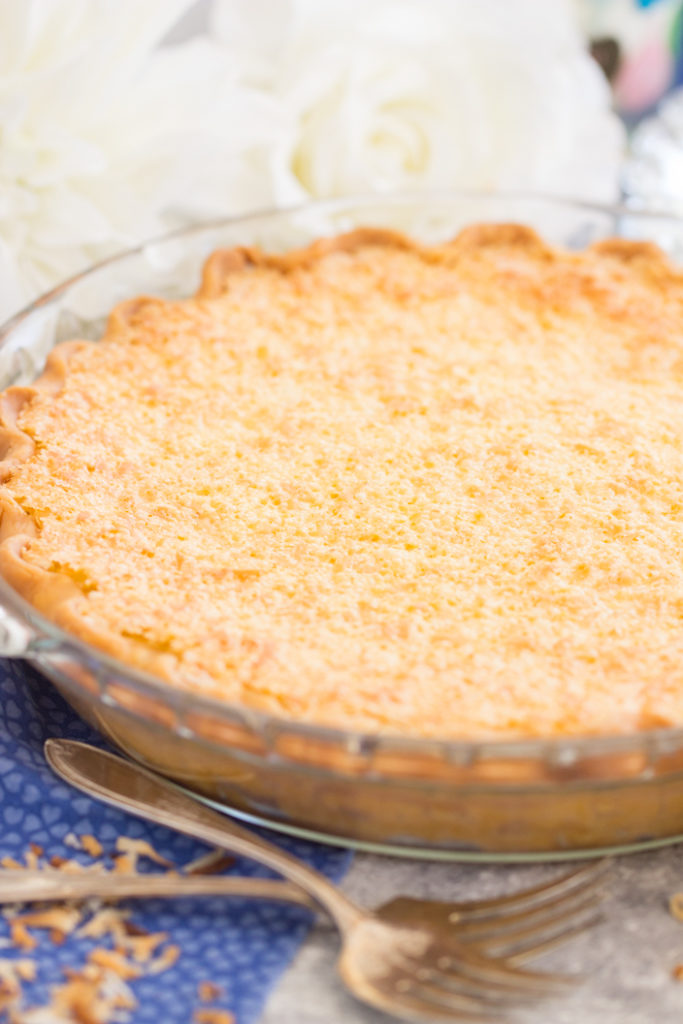 With a prepared crust, this pie comes together in 15 minutes prep. I actually like store-bought crusts. Pillsbury is worth paying for over store brand, IMO, and a ready-made crust cuts prep time and makes this Coconut Chess Pie minimal work all-around.
It's as simple as whisking everything together in a big bowl, and pouring it into a crust. It's goof-proof and beginner-friendly.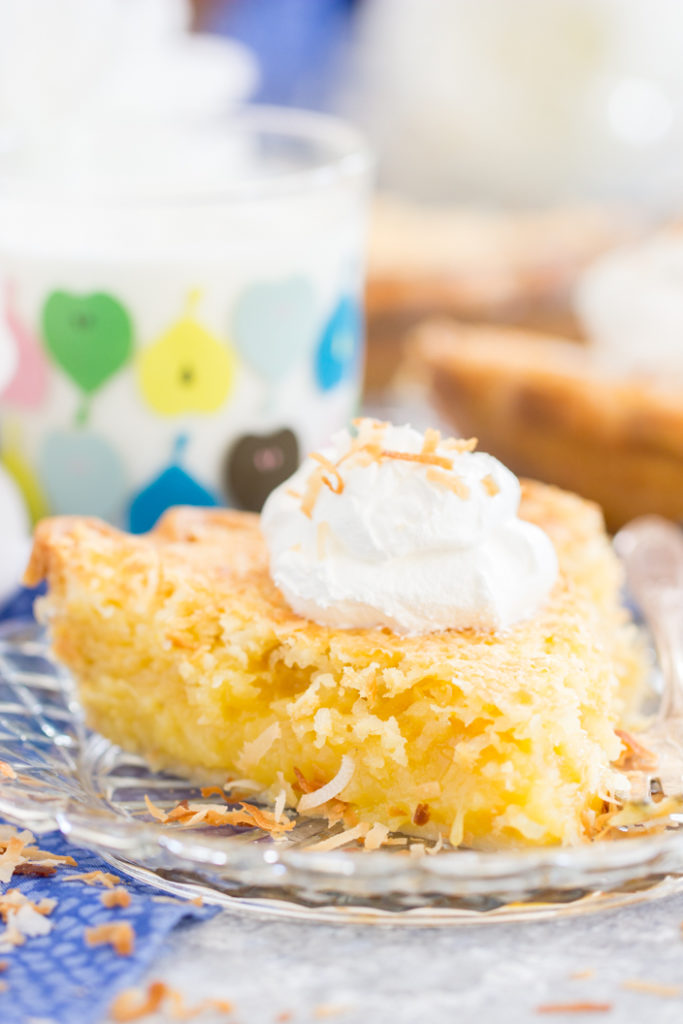 I haven't had any issues finding coconut so far, and even if you can't procure coconut for some reason, just skip it. No, it won't be Coconut Chess Pie, but that's okay because simple, classic, regular Chess Pie is absolutely phenomenal too.
Can you find a few lemons? Consider Lemon Chess Pie for Easter — it's sunny, bright, and oh-so sweet-tart. Another option if you can't get ahold of coconut. It's kinda like Lemon Bars in pie form.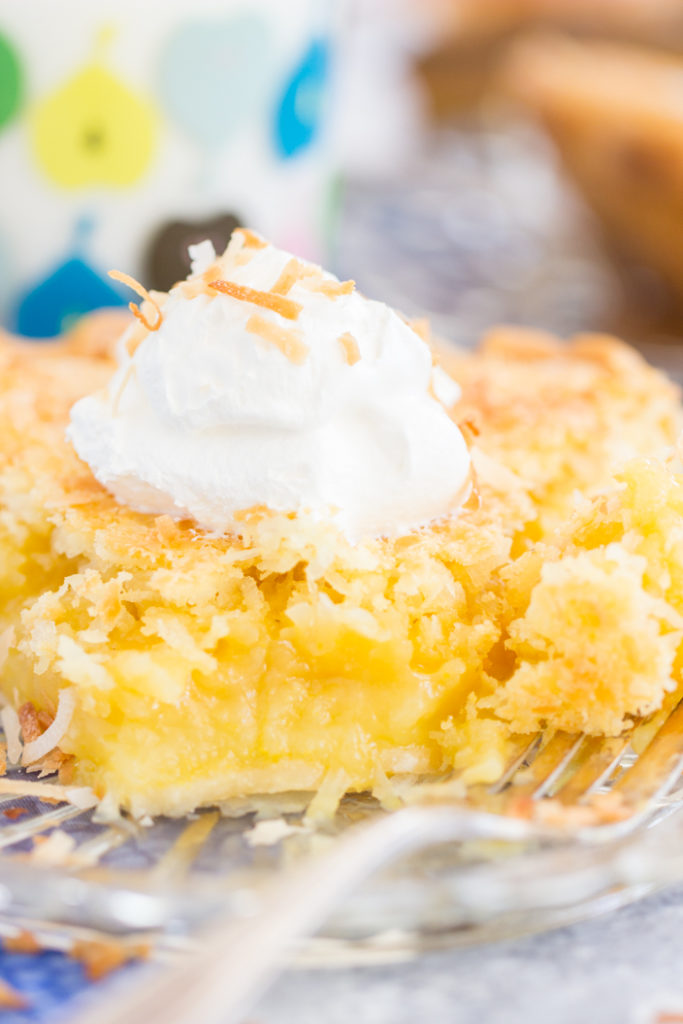 Of course, other than the question of ingredients, also important is: how does Coconut Chess Pie taste?? I can get the ingredients, but is it actually good too?
Yesssssssss. So so good.
This Coconut Chess Pie is for intense sweet-tooths, first of all, because it is insanely, but wonderfully, sweet. It's also for those who just love coconut things, or who want a Chess Pie with a tropical spin.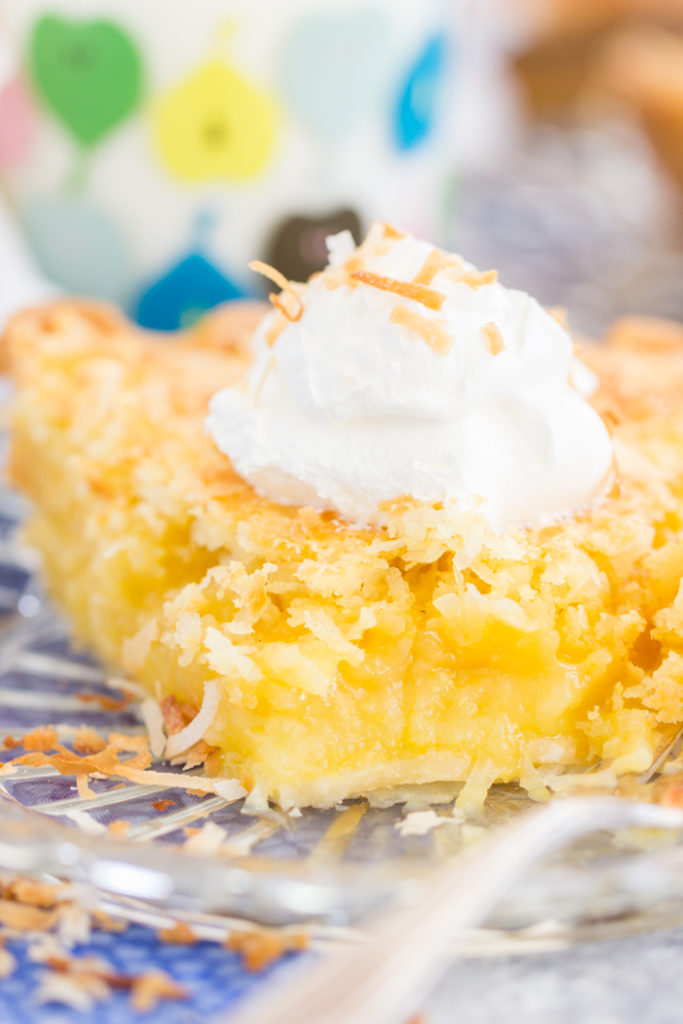 If you're a coconut nut, this is must-try. I am not a self-described coconut "nut", but I do love this pie. I crave coconut seasonally, and always want coconut desserts in the spring. Coconut Chess Pie hit the spot right now.
What I love about Chess Pie, any variation of Chess Pie, is the slightly crunchy, crackly top, a custard-like filling that is next-level creamy and luscious, and that it's very rich and sweet. A small slice is highly satisfying. This one is *stuffed* with as much coconut as I felt it could handle!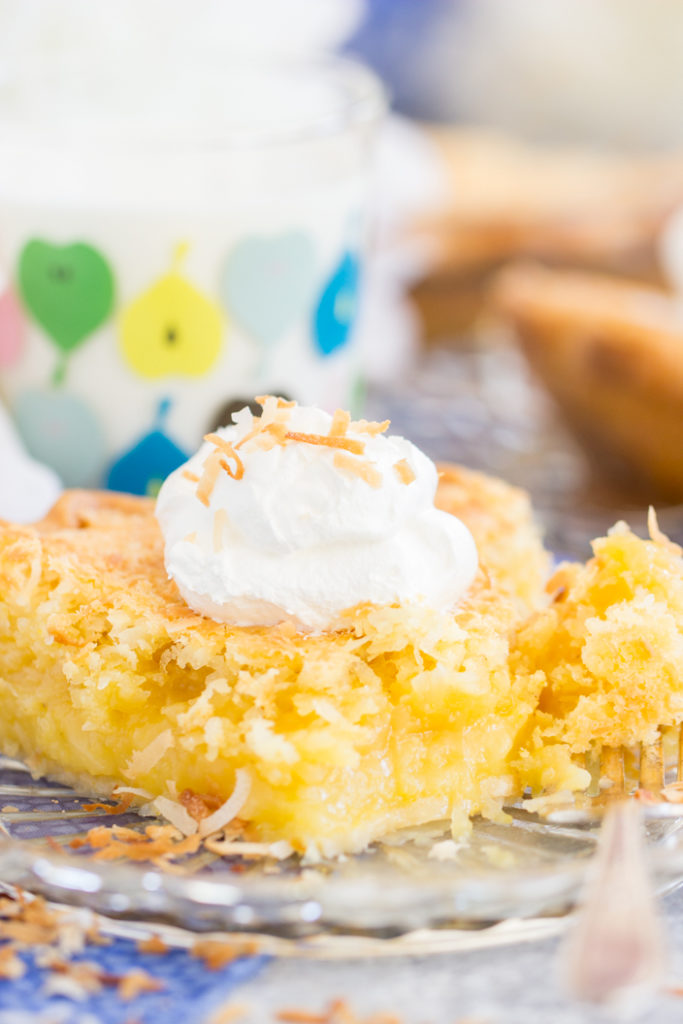 I always say about Chess Pie that although the ingredients separately are mundane, the whole is greater than the sum of its parts. In its complete form, it is much more than just sugar, butter, cream, vanilla, eggs, etc.
With this Coconut Chess Pie, all I did was whisk in coconut extract and shredded coconut. That's it, but the coconut makeover is incredible. You have to be a little careful abut what you add to Chess Pie or you alter the texture entirely, but generally speaking, it's pretty versatile and customizable!
Very basic ingredients, simple prep, and highly memorable.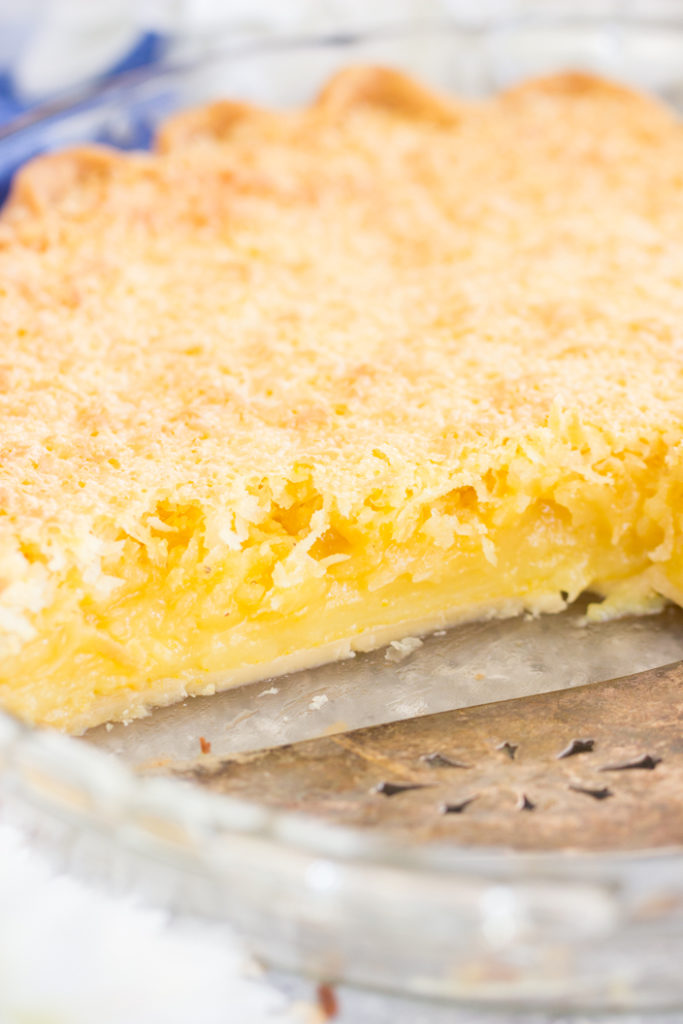 My other Chess Pie recipes include this Maple Chess Pie and this Chocolate Chess Pie. For those pies, the ingredient lists are just as short, and the ingredients are common and accessible. I like the Maple Chess Pie in the fall, it just has a fall feel about it, and the Chocolate Chess Pie is so gooey and fudgy — the filling reminds me of chocolate lava cakes, but the pie "sets" up a bit more. They have a similar vibe though.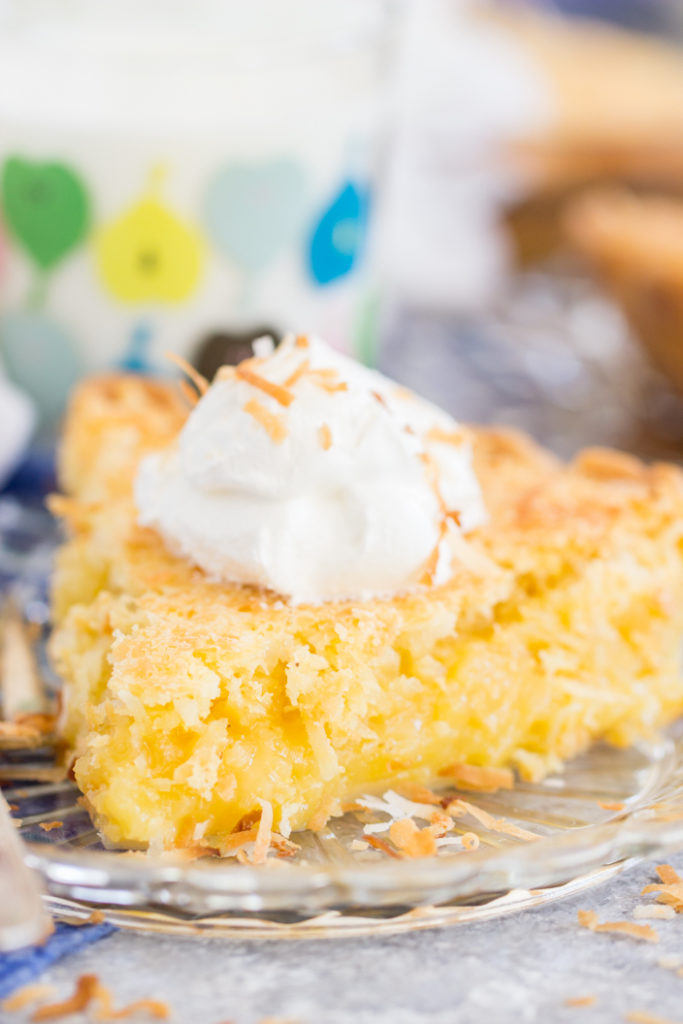 If you don't even want to bake right now, that would be understandable. Some people have more spare time than usual, while others are busier than ever. Maybe you don't even want to turn on your oven. Here's a bunch of no-bake pies for spring and summer, and I would particularly point you to this Quick & Easy No Bake Coconut Cream Pie. It's a top pick.
But see also:
No Bake Peanut Butter Pie recipe
Quadruple Layer Chocolate Pudding Pie
Fun fact: pecan pie is a form of Chess Pie too! Here's my fave: Brown Butter Bourbon Pecan Pie.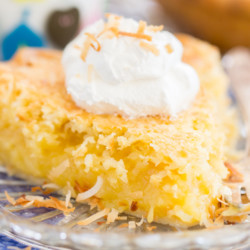 Coconut Chess Pie
A super simple, classic southern pie, but with a coconut twist! This Coconut Chess Pie doesn't get much easier, and it's a sweet-tooth and coconut-lovers' dream! This Coconut Chess Pie produces an ultra sweet, rich, creamy, decadent coconut-kissed, mind-blowing dessert! 
Ingredients
1

9 inch prepared refrigerated pie crust (I personally like Pillsbury the best)

 or your favorite pie crust recipe, prepared

2

cups

granulated sugar

2

tbsp.

yellow cornmeal

1

tbsp.

all-purpose flour

1/2

cup

salted butter

melted

1/4

cup

whole or 2% milk

1

tbsp.

vinegar

1

tsp.

vanilla extract

2

tsp.

coconut extract

4

large eggs

2

cups

shredded coconut

divided

whipped topping

garnish
Instructions
Arrange pie crust in a 9-inch pie plate, and crimp or scallop the edges.

In a large bowl, whisk together sugar, cornmeal, flour, melted butter, milk, vinegar, vanilla, coconut extract, and eggs.

Add 1 1/2 cups shredded coconut, stirring until combined.

Pour into prepared crust.

Bake at 350 degrees for 45-50 minutes, or until the top is golden brown and center appears mostly set. It does not need to be completely set - it will set as it cools!

Remove pie to a wire rack to cool completely. While pie cools, toast coconut.

Turn the oven temperature up to 400 degrees.

Scatter coconut evenly on a cookie sheet.

Bake coconut for 2 minutes, gently stir, and bake an additional 1-2 minutes, or until coconut is light golden brown.

Remove from oven to cool completely.

If desired, chill pie for at least 2 hours before serving. This is my preference! I like a chilled chess pie, and it helps firm it up for neat, clean slices.

Cut and serve with whipped topping, and toasted coconut.