This Strawberry Frosting recipe achieves the most concentrated, fresh, and authentic strawberry flavor in a thick and fluffy buttercream! It requires only one additional ingredient than standard buttercream, but is positively bursting with robust, bona fide strawberry flavor.
To easily view all of the blog recipes, follow along on Pinterest!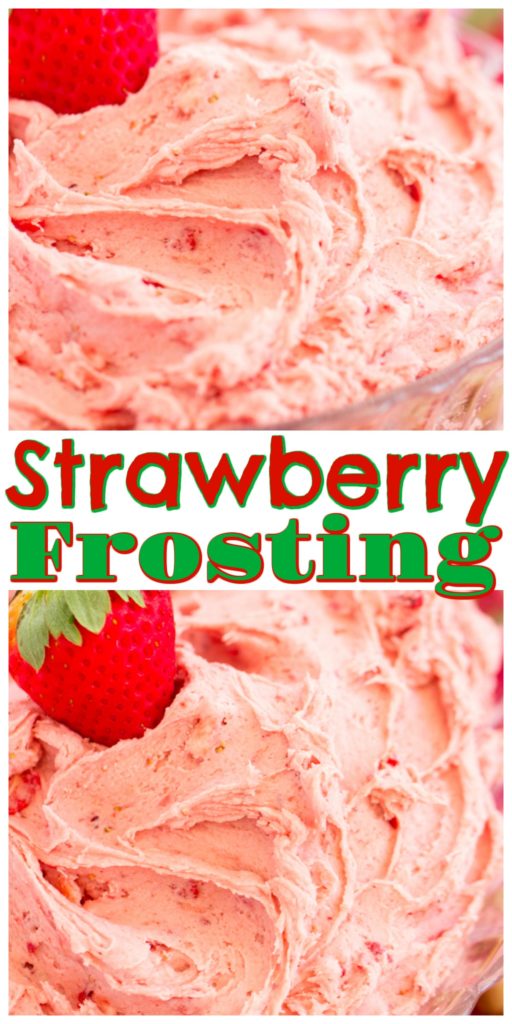 There is a special key to creating a
Strawberry Frosting recipe
that won't have artificial or diluted strawberry flavor, and it lies in one single ingredient: freeze-dried strawberries! Ordinary vanilla buttercream frosting is entirely transformed with that one simple ingredient.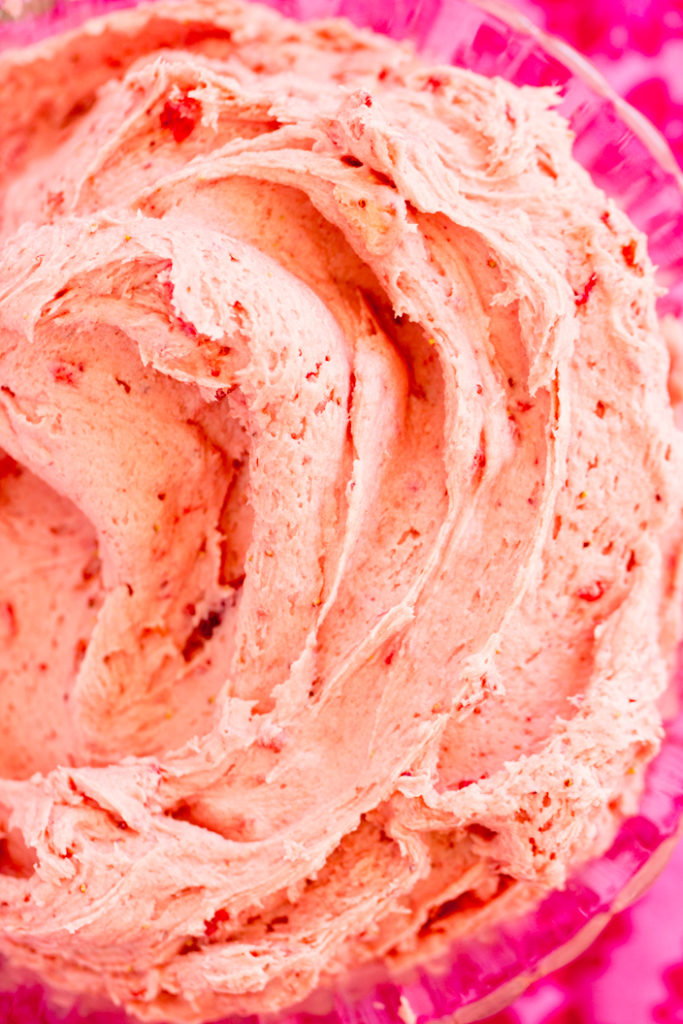 Strawberry Frosting is far easier to accomplish than I realized, and it took me way too many attempts to learn the hard way how easy and effortless it is to create.
I attempted to make a
strawberry buttercream
many years ago, which was a complete and utter FAIL. You can read about the debacle (and many other fails)
here
. It's kind of amusing, I think.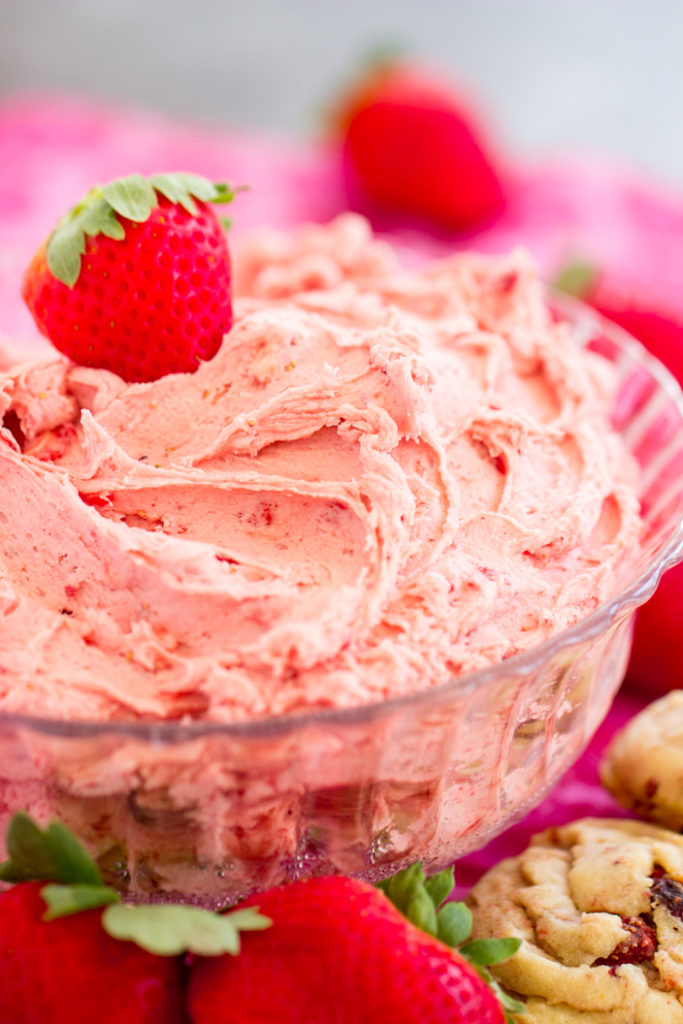 It was a slightly different concept, but similar. The gist is that I hoped that Strawberry Jam Frosting could be a thing. Like, if I just mixed strawberry jam into thick buttercream, it would taste like, well, Strawberry Jam Frosting. Doesn't that sound delicious?
It was all but flavorless. Strawberry jam isn't enough to carry it. It just isn't concentrated enough.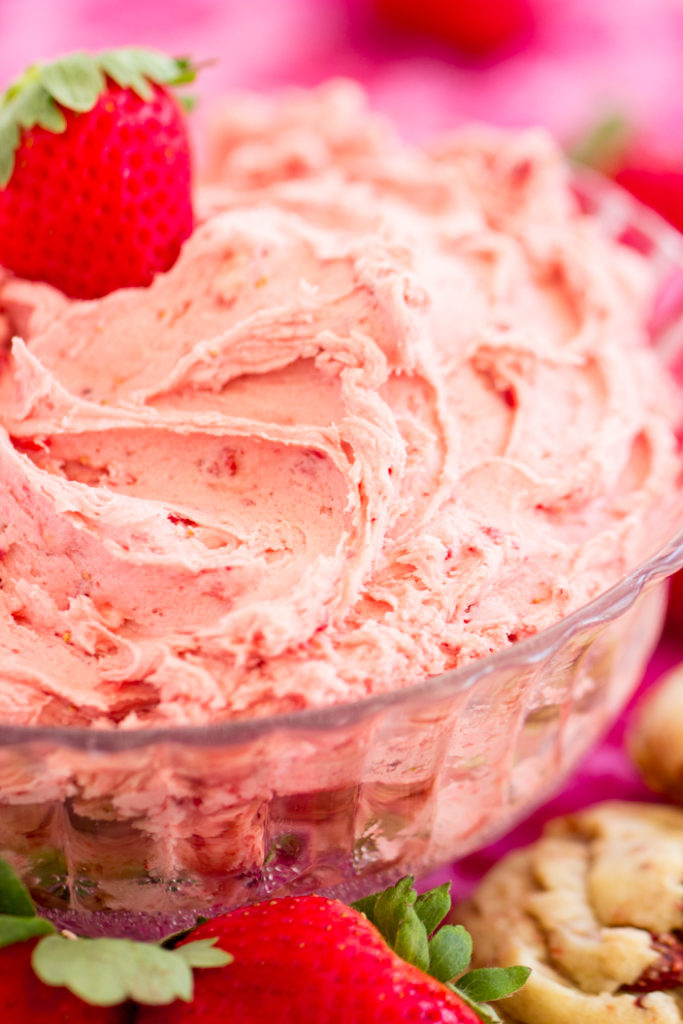 I tried adding strawberry extract for more oomph. That was a poor choice. I usually love extracts and don't turn my nose up at them to get a flavor boost, even if artificial, but strawberry does not come through authentically at all. I can overlook a bit of artificiality, but not in this case.
Lastly, if one uses fresh or frozen strawberries in most any form — chopped, pureed, etc., the flavor is not potent enough — it tastes watered down and lacking. Nevermind the texture issues presented: frosting is too thin, curdles, or separates, etc.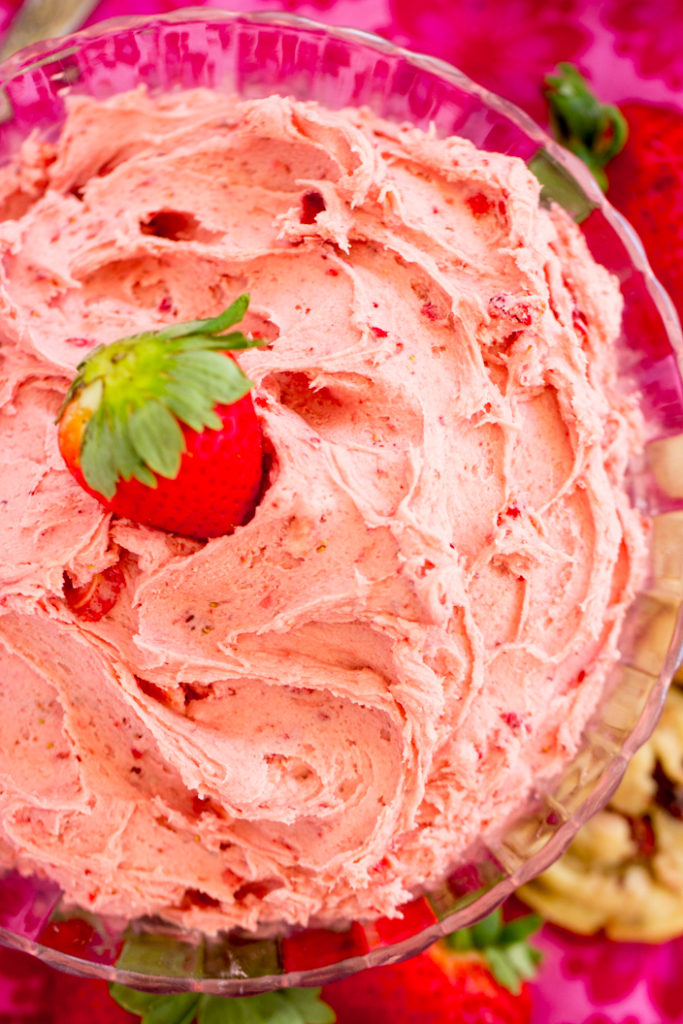 Strawberry Frosting is tricky (or it WAS tricky… but is no more). If I knew then what I know now, I could've saved a lot of trouble and many pounds of butter and powdered sugar, but the easiest and best way to achieve a workable Strawberry Frosting is with freeze-dried strawberries.
That's all it takes! Freeze-dried strawberries, crushed into dust, added to standard vanilla buttercream, produce a downright magnificent
strawberry buttercream
.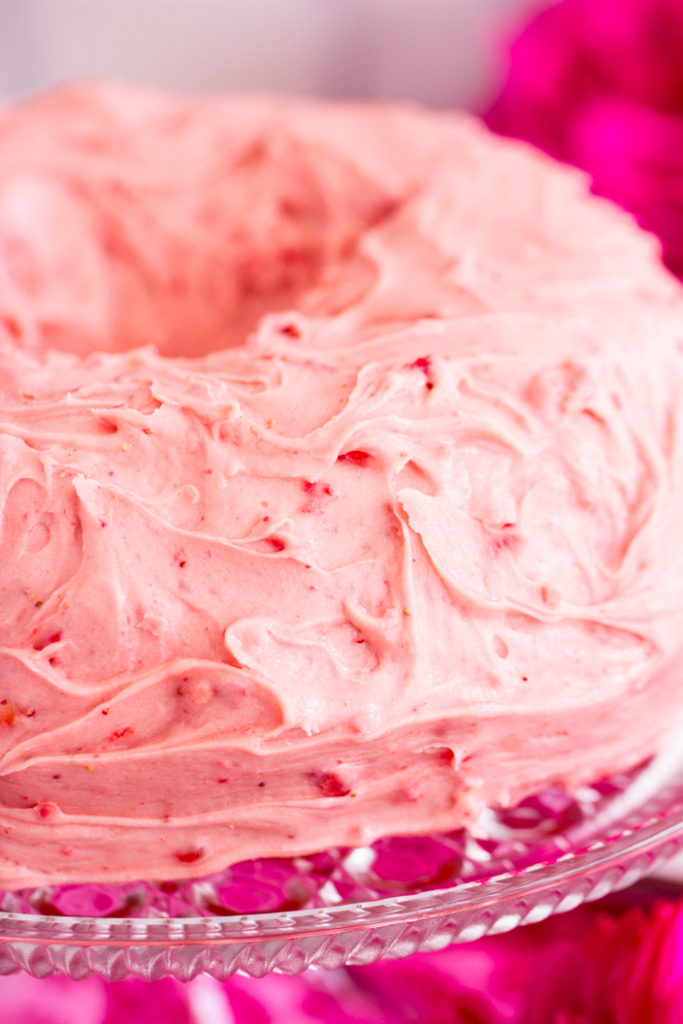 This Strawberry Frosting has two distinct flavor layers to it. First, it tastes like jam was added to it. What I had wanted all along! A jammy strawberry flavor. Sweet, fruity, jammy jam! But not watered down, it's strong and intense. Just like a frosting crossed with jam.
Second, the freeze-dried fruit manages to give an ever-so-slightly roasted hint, which is wonderful and brings out a noticeable depth to the strawberry flavor.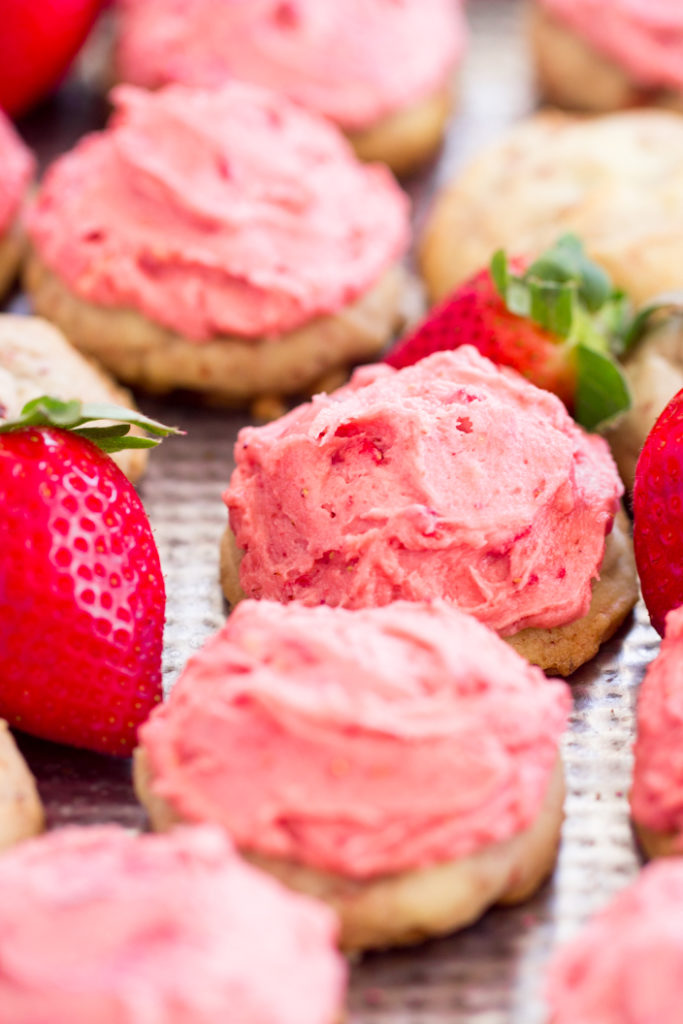 The strawberry flavor here tastes roasted and jammy at the same time. So authentic and fresh-tasting, and very concentrated too.
If you left this
Strawberry Frosting
to sit overnight once it's made, the flavor further develops and intensifies. It's strong at the jump, but continues to bloom while it sits for a bit. It's not necessary, but I've noticed a difference.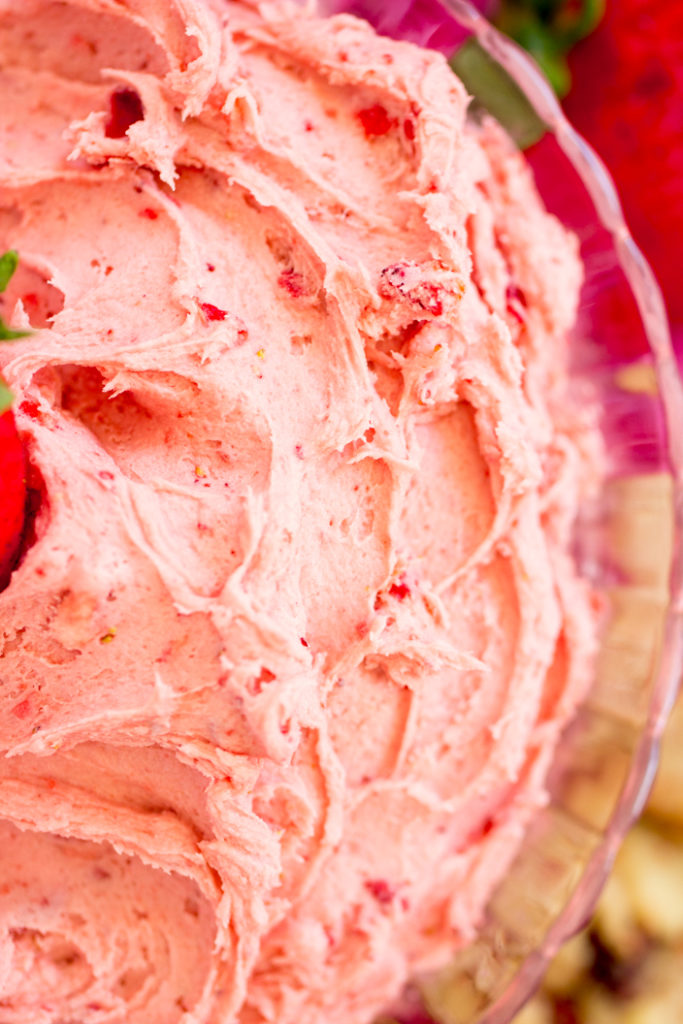 Now that we know about this secret ingredient, we can make nearly any flavor frosting we want — whatever fruit is available freeze-dried, we can make frosting accordingly: mango, pineapple, raspberry, blueberry, banana, peach… the tastebud adventures continue.
What else can you smother in Strawberry Frosting? While some of these have other flavors incorporated, you could easily substitute or leave out ingredients to overhaul these with strawberry.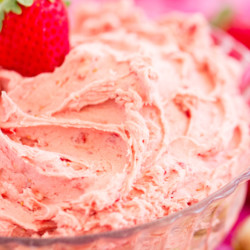 Strawberry Frosting
This Strawberry Frosting recipe achieves the most concentrated, fresh, and authentic strawberry flavor in a thick and fluffy buttercream! It requires only one additional ingredient than ordinary buttercream, but is positively bursting with robust, bona fide strawberry flavor.
Ingredients
1

oz.

freeze-dried strawberries

NOT dried strawberries, must be freeze-dried!

1

cup

butter

softened

4

cups

powdered sugar

3 - 5

tbsp.

heavy cream

2

tsp.

vanilla

pinch of salt
Instructions
Place freeze-dried strawberries in a food processor or blender, and process until they resemble fine crumbs and powder. A few small chunks are fine. Set aside.

In a large mixing bowl, beat butter until creamy and smooth.

Add powdered sugar, 3 tbsp. heavy cream, vanilla extract, pinch of salt, and strawberry dust.

Beat until thick and fluffy, at least 2 minutes on medium speed.

Add additional 1 - 2 tbsp. heavy cream, as needed, to achieve desired consistency. It should be thick, fluffy, and hold shape so that it can be pipable, if needed.

Pipe or spread on anything you desire!!

If not using it immediately, store in a tightly-sealed contained in the refrigerator for up to 10 days, and in the freezer for up to 3 months. Return to room temperature before using. The frosting may have 'settled' while chilling, and even back at room temperature may be firmer than when initially made. If needed, beat with an electric mixer for 1 - 2 minutes to fluff it back up before using.
Notes
If you don't have a food processor or blender handy, or just don't feel like dragging them out of their cupboards, I sometimes pulverize items by placing in a gallon Ziploc bag, and crushing them with a rolling pin by rolling and tapping. This method works well for turning the freeze-dried strawberries into fine crumbs.
Are there substitutions for heavy cream in the frosting? Yes, you can use any % milk, half-and-half, evaporated milk, or even water in a bind. I greatly prefer heavy cream because it produces a much fluffier frosting. I have played with this a lot, and it gives more lift and fluffiness than any other alternative, but you can substitute if necessary.
Where can you find freeze-dried strawberries and other freeze-dried fruits? I have easily found them at Publix, Target, and Walmart, at the least. In my experience, they are readily available and accessible in most grocery stores. I've even found freeze-dried fruits at CVS. Not to be mistaken with dried fruit! You want FREEZE-dried fruit, NOT dried fruit.
Other fun frostings!