These Pumpkin Zucchini Muffins feature the marriage of the best summer and fall veggies! With pronounced pumpkin flavor, an assist from zucchini, a balanced mix of autumn-y spices, and a heap of buttery, brown sugar streusel! A batch of Pumpkin Zucchini Muffins is a fall must-have.
To easily view all of the blog recipes, follow along on Pinterest!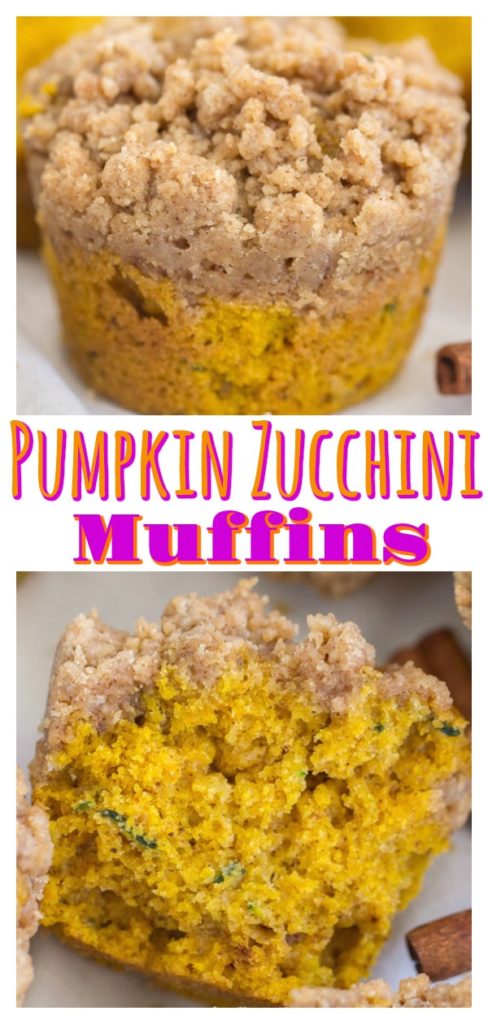 Green and orange…. aaaah, what a beautiful color combination in food. So stunning. So appetizing. Who doesn't want to eat orange vegetable muffins flecked with shavings of a bright green vegetable too?? YOU DO. Trust me! I know these Pumpkin Zucchini Muffins are not real "lookers," but they are legit tasters.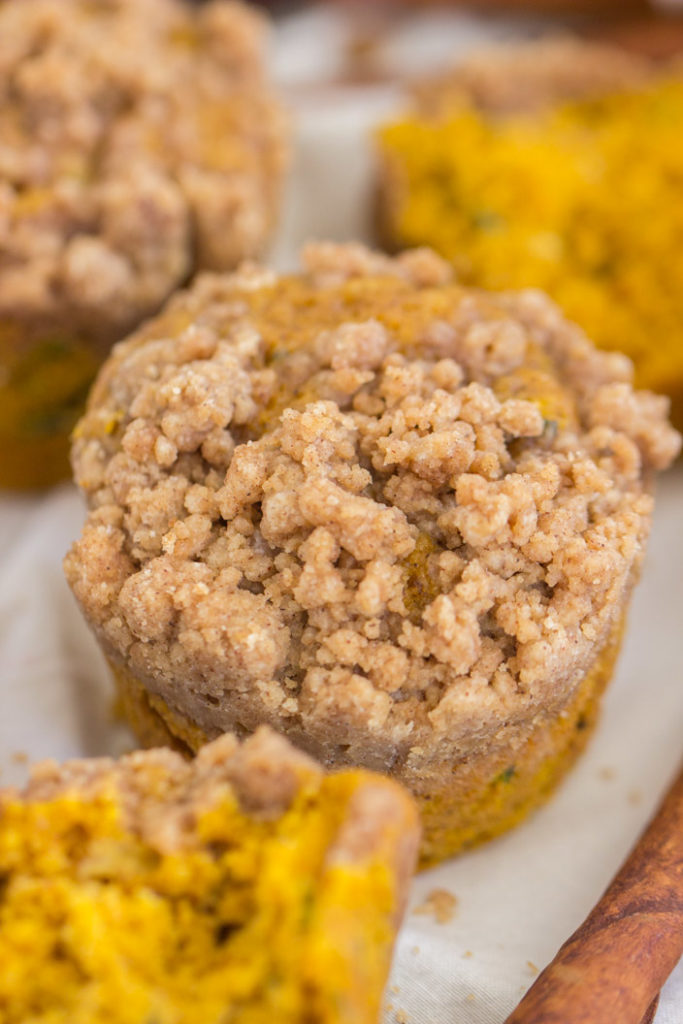 A muffin mashup of pumpkin and zucchini. The best way to transition from summer –> fall: combine our favorite summer veggie with our favorite fall veggie. Then add spice and heaps of streusel.
Sure, they're not that cute to look at, but nevermind appearances. And both 'veggies' are technically fruits, but c'mon.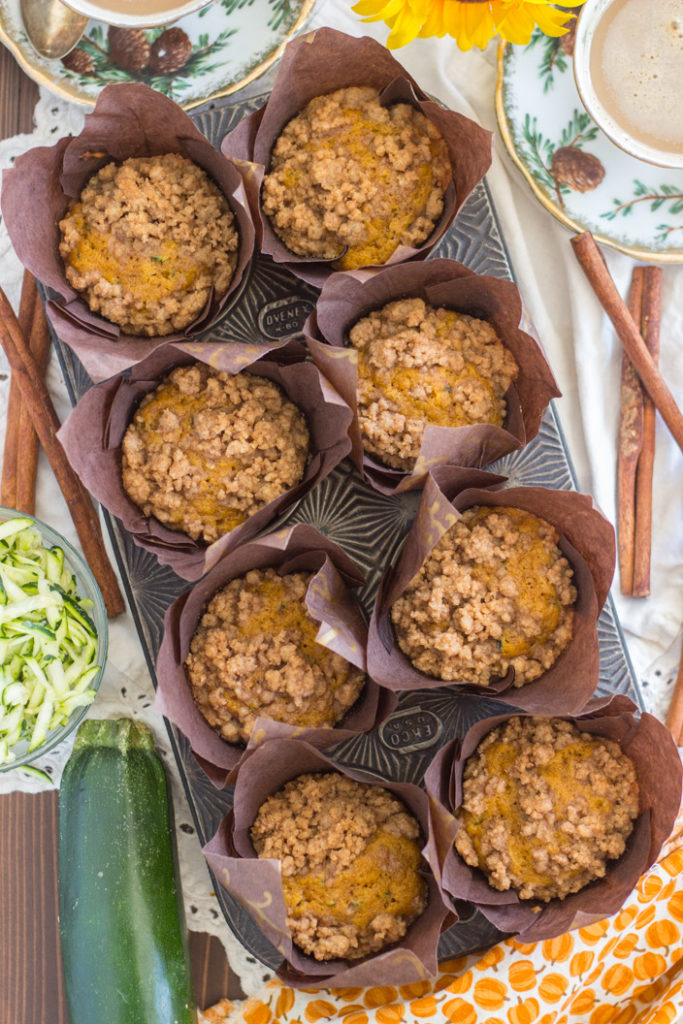 I just shared these Zucchini Pumpkin Cookies a few days ago, and the flavor profile is fairly similar. Pumpkin is slightly more salient, but the essence of zucchini is there too, so both make their presence known, and neither competes with the other.
Zucchini and pumpkin together are lovely! I know it seems like a gimmick, but I swear I'm not forcing these two ingredients on each other. Well, initially I did just to see what would happen, but then it didn't need to be forced because it turned out that pumpkin and zucchini are quite the pair.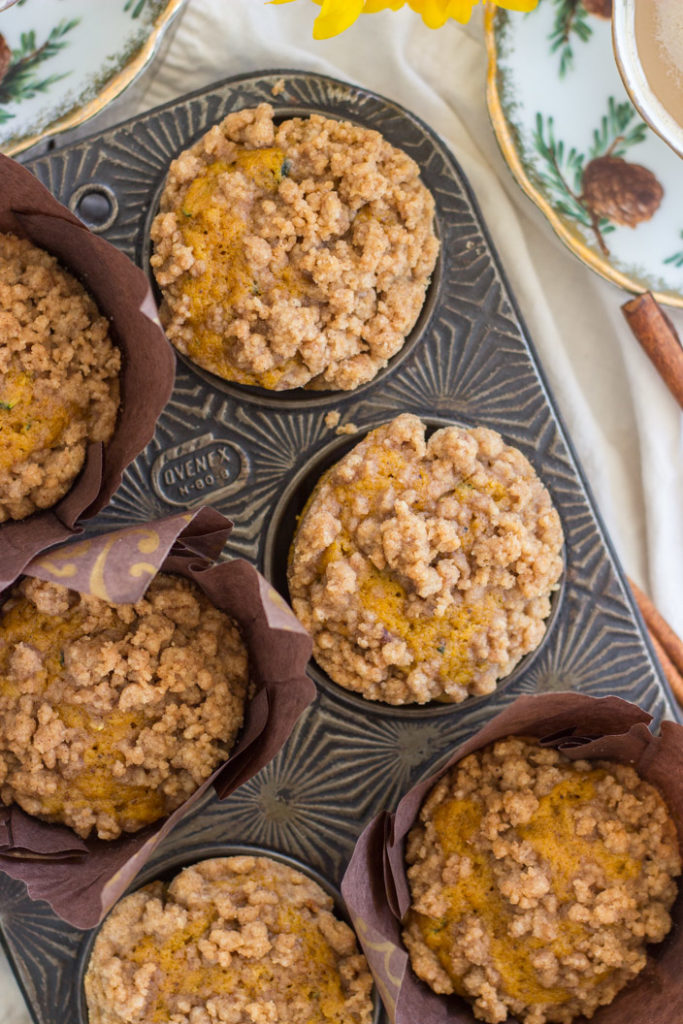 Neither are particularly overpowering individually, and the spices are what really enhance them. These Pumpkin Zucchini Muffins are nicely spiced, a delightful blend of warm spices that complement their veggie components.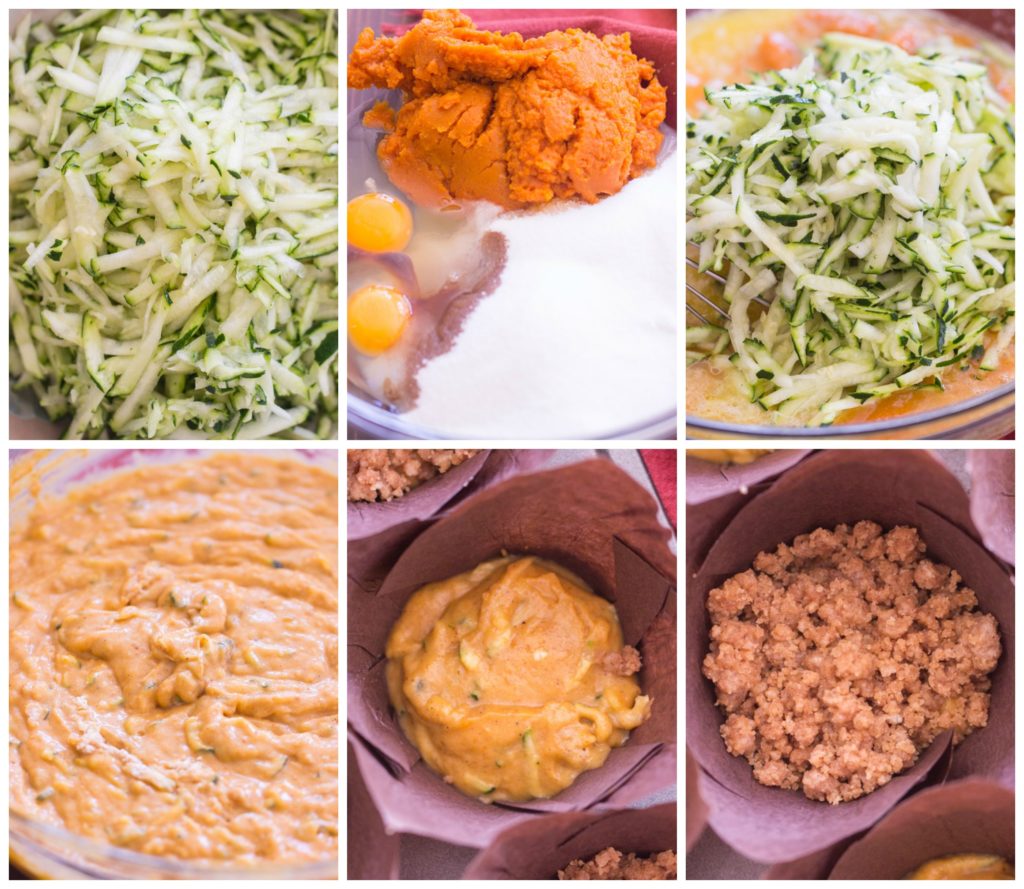 The muffins themselves. There'd be a few ways to arrive at these, but my approach was very round-about. Bear with me. Here's the origin: I actually started with my favorite Banana Bread recipe, one of the longest-standing, most tried-and-true recipes in my arsenal, tweaked it into Zucchini Banana Bread first, then eighty-sixed the banana entirely, added pumpkin instead, and made it into this Pumpkin Zucchini Bread with Brown Butter Icing. A weird process to get from A to B, but here we are.
It's everything you want in a loaf of quick bread. It's crazy moist, very soft, with tight crumbs, but not dense or brick-like. Really moist, soft, and hearty.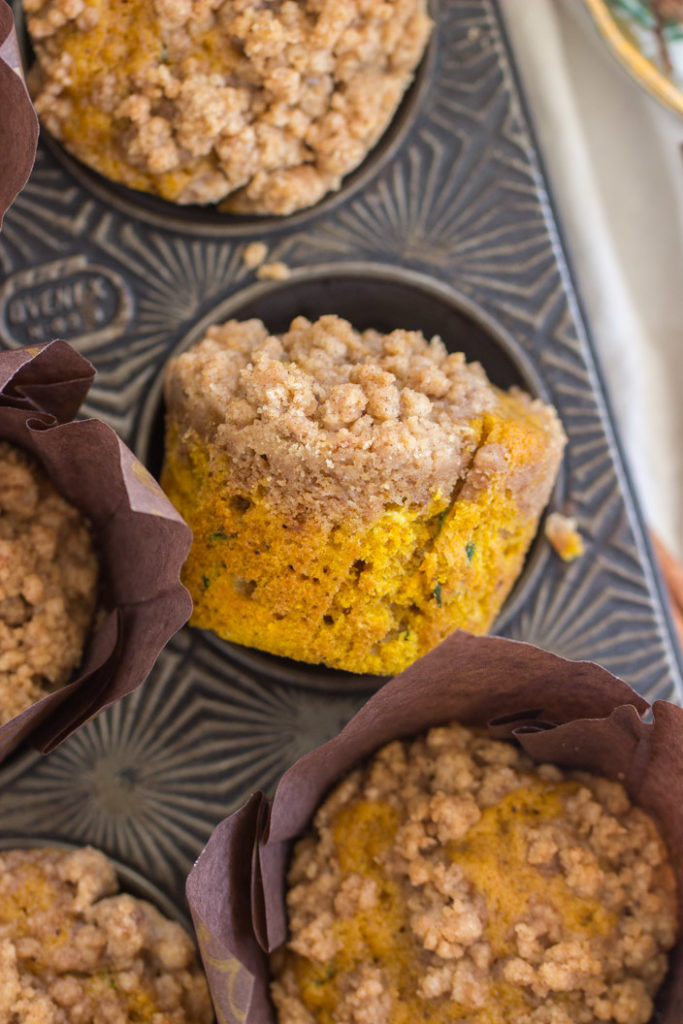 Let's discuss the streusel. I often wonder why I bother to make any sort of bread or muffins without streusel. Like, why? Shouldn't everything have streusel? Streusel is always worth the effort.
This one is equal parts flour and brown sugar, infused with spice, like it's muffin counterpart, and quite saturated with butter. Would you want it any other way? The crumbs get toasty, golden, slightly crunchy, and yet they melt-in-your-mouth.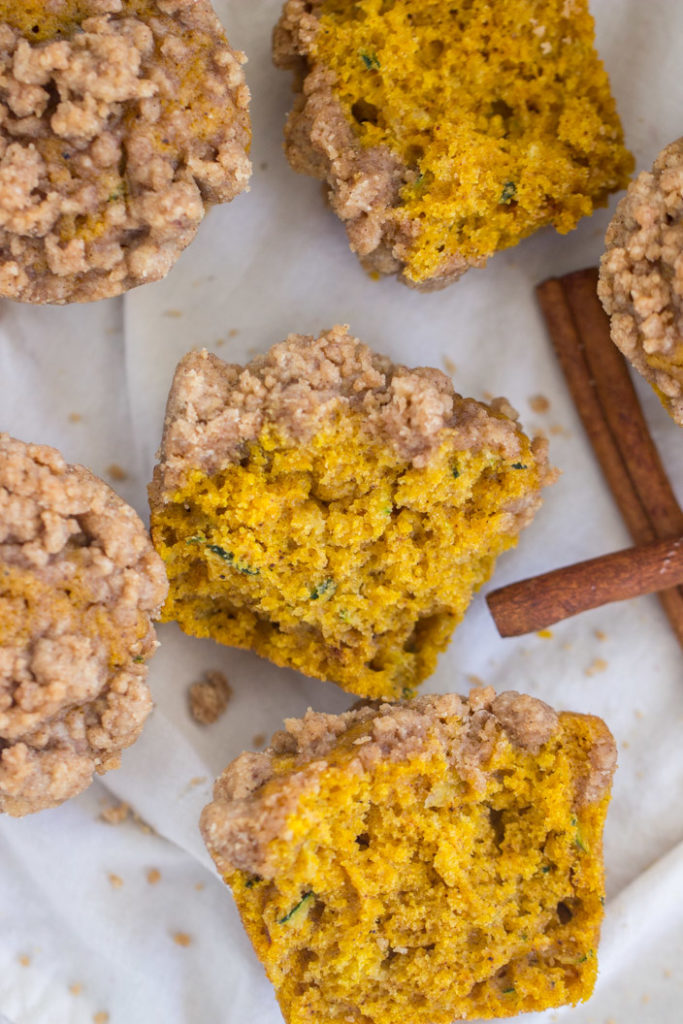 This same streusel has made MANY appearances. It's my go-to streusel. I've used it for countless breads, muffins, and the like, including this Streusel Apple Zucchini Bread, these Streusel Banana Bread Muffins, these Pumpkin Pecan Scones… I could go on and on. It just plain rocks.
If you love pumpkin separately, and you love zucchini separately, these Pumpkin Zucchini Muffins are a natural jump. They're the perfect mash-up. You get the best of both worlds.
SUBSTITUTIONS AND VARIATIONS FOR PUMPKIN ZUCCHINI MUFFINS:
This recipe makes a substantial 9×5 loaf, two smaller 8×4 loaves, or 18 bountiful muffins. Baking time will vary.
I do not recommend substituting margarine for real butter. I highly suggest real butter, salted or unsalted, either is fine.
Sugar can be reduced in this recipe with minimal impact. If you'd like to cut it to 1 or 1 1/2 cups, it will still create delicious muffins.
This recipe calls for pumpkin puree, NOT pumpkin pie mix.
Whole wheat or whole wheat white flour can swap for all-purpose flour, but expect a slightly gritty texture.
Feel free to add up to 2 cups of your favorite nuts, baking chips, or dried fruit. Any combination up to 2 cups.
Want to seriously take these Pumpkin Zucchini Muffins up a notch? Add a drizzle of your favorite glaze or icing, perhaps brown butter icing, cinnamon icing, or cream cheese glaze!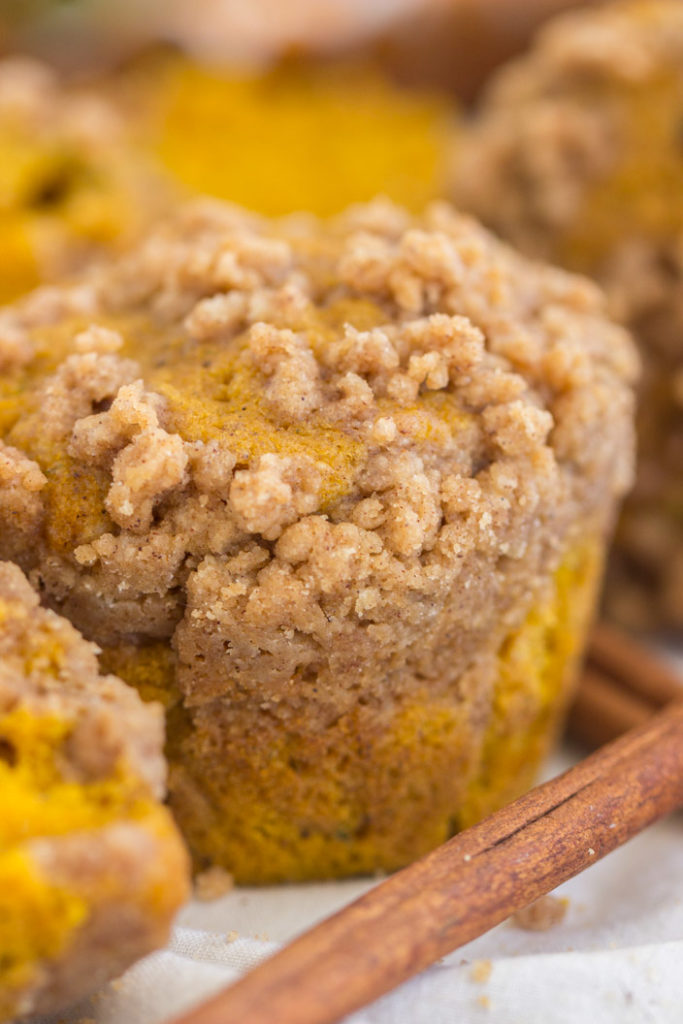 STORAGE AND FREEZING STREUSEL MUFFINS:
Store covered at room temperature for up to 3 days, or in the refrigerator for up to a week.
To freeze, wrap snugly with layers of plastic wrap, as well as a layer or two of foil, and store for up to 3 months.
They're my favorite when freshly warm from the oven, but they reheat well. For best results, cut in half vertically, lay halves on their flat side, wrap them in foil, and bake at 350 degrees for about 5 minutes, or until heated through.
If you're still on a zucchini kick into fall, here are 12 of my most favorite, very best zucchini recipes. It's a little outdated and doesn't include some recent recipes –>
Other ideas for must-make zucchini and pumpkin baked goods?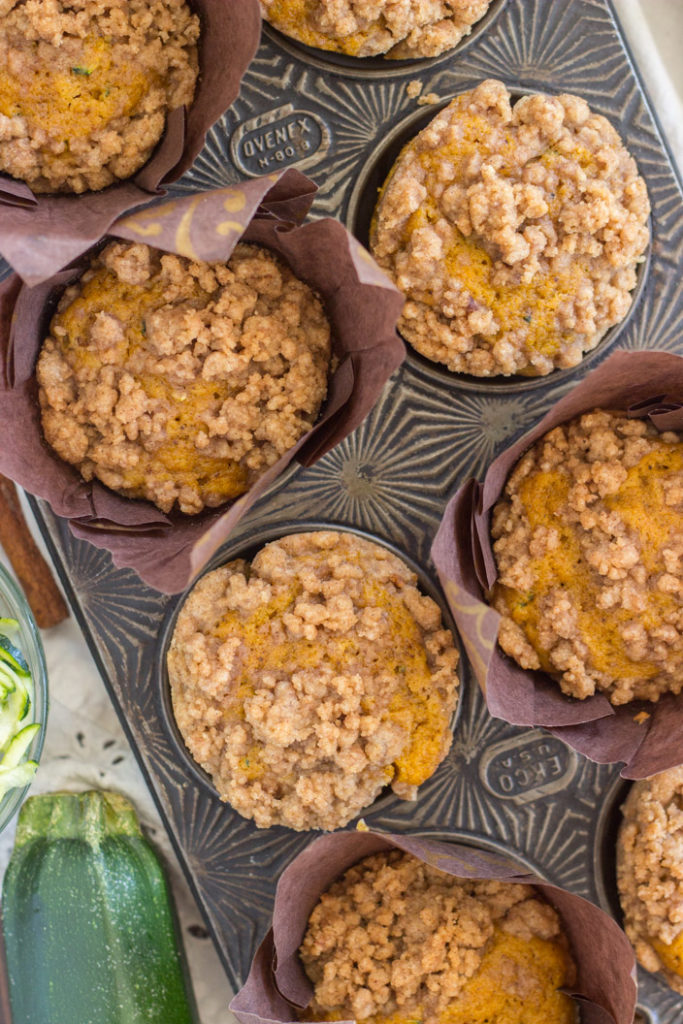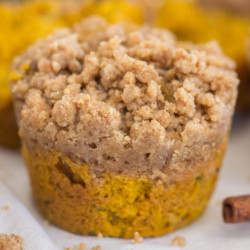 Pumpkin Zucchini Muffins with Streusel
These Pumpkin Zucchini Muffins feature the marriage of the best summer and fall veggies! With pronounced pumpkin flavor, an assist from zucchini, a balanced mix of autumn-y spices, and a heap of buttery, brown sugar streusel! A batch of Pumpkin Zucchini Muffins is a new fall must-have.
Ingredients
For Pumpkin Zucchini Muffins:
3

large

eggs

2

cups

granulated sugar

1

cup

butter

melted

2

cups

grated zucchini

about 2 medium

1

cup

canned pumpkin puree

2

tsp.

vanilla extract

3

cups

all-purpose flour

1

tsp.

baking soda

1/2

tsp.

baking powder

1/2

tsp.

salt

1 1/2

tsp.

cinnamon

1/2

tsp.

pumpkin pie spice

1/4

tsp.

nutmeg

1/4

tsp.

ground clove
For Streusel:
1/2

cup

all-purpose flour

1/2

cup

packed brown sugar

1 1/2

tsp.

cinnamon

4 - 5

tbsp.

butter

melted
Instructions
For Pumpkin Zucchini Muffins:
In a large bowl, whisk together eggs, sugar, butter, zucchini, pumpkin, and vanilla.

In a medium bowl, whisk together flour, baking soda, baking powder, salt, cinnamon, pumpkin pie spice, nutmeg, and cloves.

Add the dry ingredients to the wet ingredients, and stir until just combined. Do not overmix - a few lumps are okay.

Line 18 regular-sized muffin cups with paper liners.

Fill muffin cups 2/3 full.
For Streusel:
In a small bowl, combine flour, brown sugar, and cinnamon.

Add 4 tbsp. melted butter, cutting it in with a fork or knife until crumbly. If needed, add an additional tablespoon of butter, stirring until mixture resembles mostly pea-sized crumbs. It was easiest to use my fingers to stir and crumble the mixture! By contrast, if you find the streusel is too buttery, you can add a tablespoon or two of flour. Streusel is like frosting in that it can have a mind of its own each time you make it! It needs adjusted as you go sometimes. It also helps to let the streusel sit for a minute or two and the butter will firm up -- this allows easier pebble formation.

Evenly sprinkle roughly a tablespoon of streusel over the muffins.

Bake at 350 degrees for about 20 minutes, or until edges and streusel are golden and a toothpick inserted near the centers comes out clean. Depending on the type of pan you use, baking time can vary. I also recommend rotating pans about halfway through baking!

Remove to a wire rack to cool.