Cake mix sugar cookie cups, filled with homemade lemon curd, and topped with whipped cream, for bite-sized Lemon Cream Pie Cookie Cups!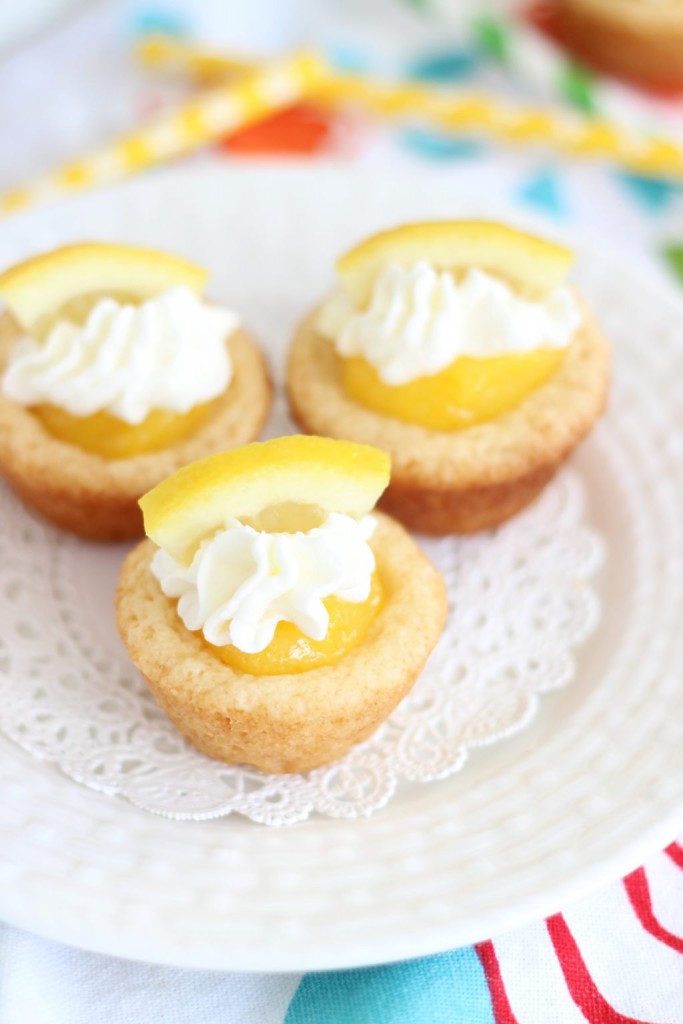 The weather has been absolutely perfect this week, and it's got me back in a citrus groove. I got hit with it really hard back in February when I was ready for spring, then March took the edge of my citrus cravings, but I'm back on it. It's just been the most beautiful spring here in Florida, and it's got me thinking about all sorts of fruity desserts.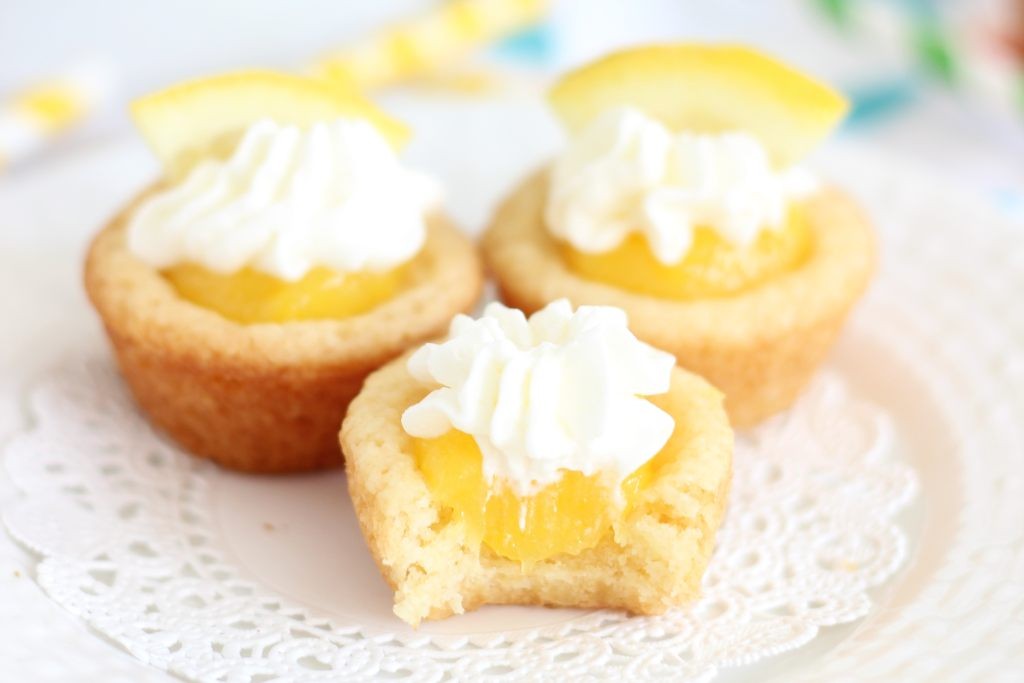 I'm so into spring this year that I'm even watching baseball games religiously. I used to love baseball, then I fell out of it (hey, it can be slooooooow), but I'm really making an effort to get back into it this year. I need a sport to tide me over until football season in the fall.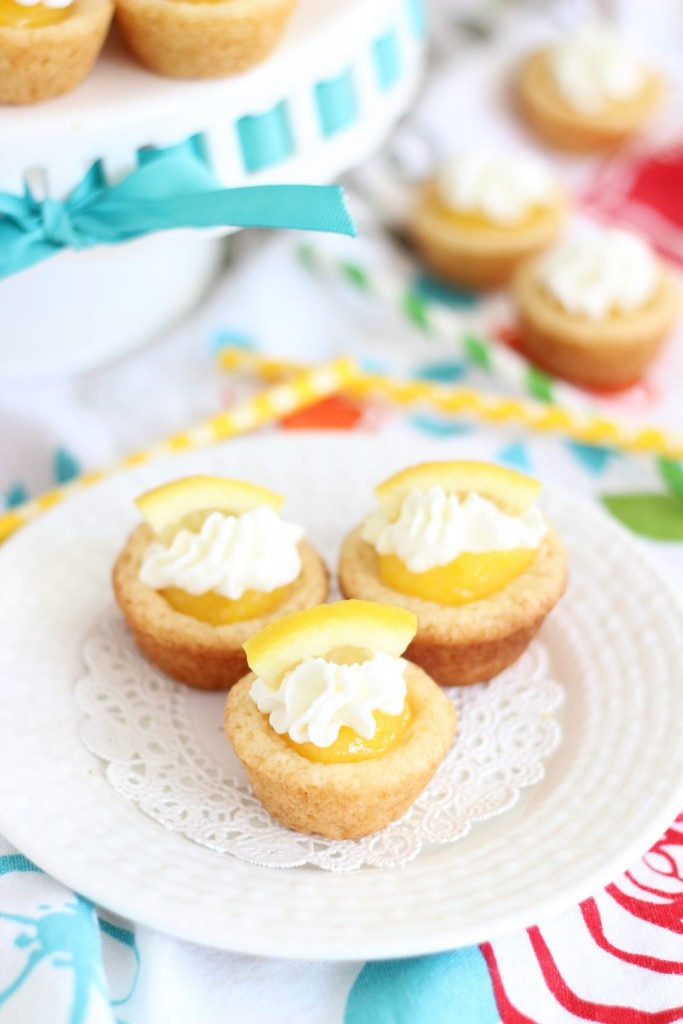 As for this springy dessert recipe, I see these Lemon Cream Pie Cookie Cups happening for me again in the very near future. They are little bites of springtime and citrus heaven.
The cookie cups are made with French vanilla cake mix. Just a few simple ingredients added to it, allow ample time for chilling, bake, and you'll get perfect sugar cookie cups. Long on vanilla flavor, and with golden crisp edges, but really soft centers.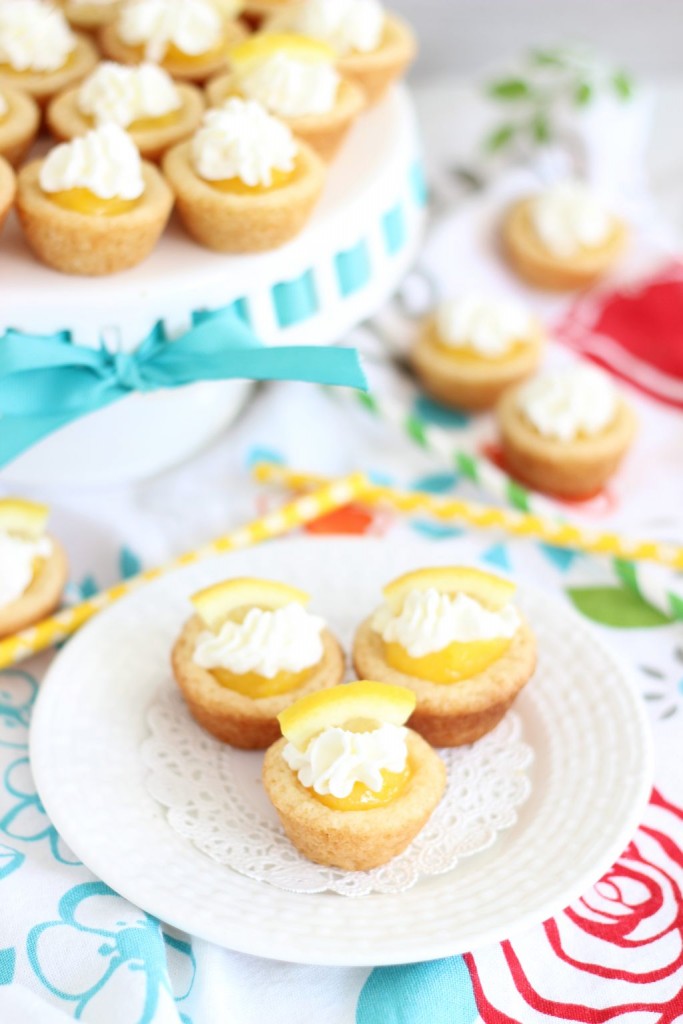 You could fill them with almost anything – buttercream frosting, peanut butter, custard, homemade curd, or…. I don't know. ANYTHING!
Seeing as though I binged on making homemade lemon curd (and a bunch of other curds) for the second spring in a row, I went with homemade lemon curd. I made an ultra-large batch when I made this and this recently, so I still had some left, and it makes for the perfect tangy, sweet, and creamy filling for these cookie cups.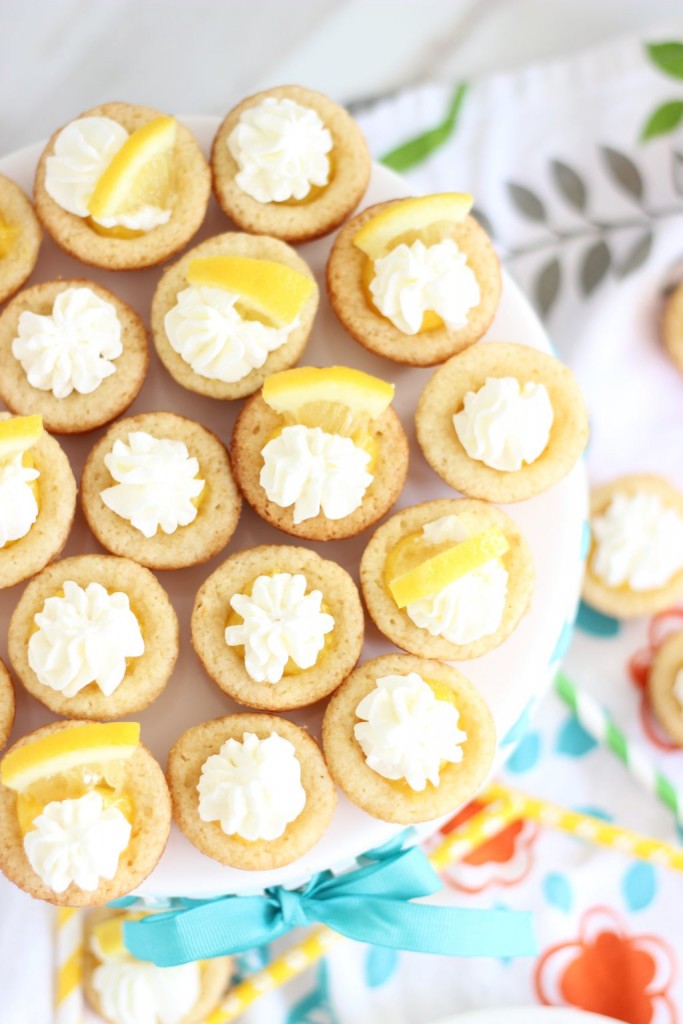 Two steps to simple bite-sized Lemon Cream Pie Cookie Cups.
Top with whipped cream, and you're done!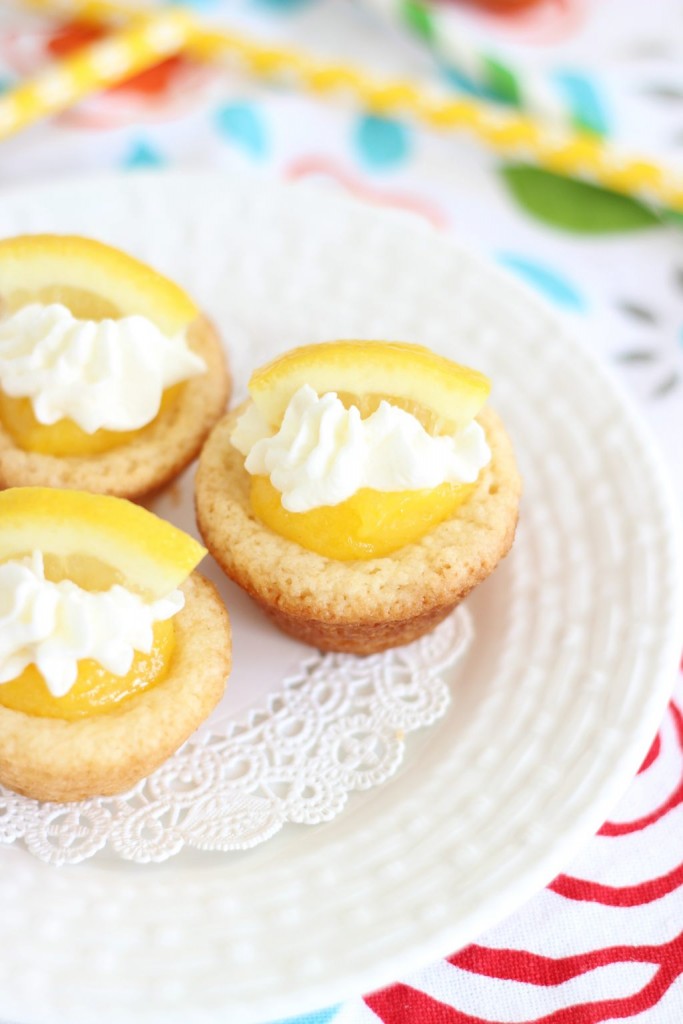 Lemon Cream Pie Cookie Cups
Ingredients
For cookie cups:
¾ c. butter, softened
½ c. sugar
1 egg
2 tbsp. water
1 box French vanilla cake mix
whipped cream, for garnish
For lemon curd:
4 egg yolks, at room temperature
Zest of 2 lemons
⅓ c. fresh lemon juice
½ c. sugar
pinch of salt
3 tbsp. unsalted butter, softened
Directions
For cookie cups:
In a large mixing bowl, combine butter and sugar, beating until light and fluffy.
Add egg and water, beating until combined.
Add cake mix, and beat until combined. Dough will be thick.
Cover and refrigerate for 2-3 hours, or until it can be rolled into balls.
Prepare and chill lemon curd while waiting for the dough to chill!
Coat non-stick mini muffin pans with cooking spray.
Roll dough into scant 1-inch balls, about 11/2 - 2 tsp. dough, and place in the bottom of each muffin cup.
Make an indentation with your thumb in the center of each dough ball.
Bake at 350 degrees for 8-10 minutes, or until edges are pale golden brown.
Immediately remove heat, and use the end of a wooden spoon to re-indent the center of each cup.
Allow to cool completely before removing to a wire rack. They're a little delicate to remove from the pans, so make sure you're careful, and it helps to sort of spin them out of the cup!
For lemon curd:
In a small bowl, whisk together the egg yolks, lemon zest, lemon juice, sugar and salt. Transfer to a small saucepan.
Cook the mixture over low-medium heat, stirring constantly, until it is thick enough to coat the back of a spoon, 3 to 5 minutes.
Remove from heat and add the butter. Mix until smooth.
Transfer the curd to a small bowl and cover with plastic wrap.
Refrigerate until chilled, about 30 minutes.
To assemble:
Pipe or spoon a heaping teaspoonful of lemon curd into the center of each cookie cup.
Top with whipped cream!
Notes
Store in the refrigerator.