This quick and easy No Bake Chai Pumpkin Cheesecake preps in minutes! It features a silky pumpkin pie-like layer, and a creamy, chai-spiced cheesecake layer, both piled high. This No Bake Chai Pumpkin Cheesecake is simple and casual enough that it can be made and enjoyed all season long as an everyday fall dessert!
To easily view all the blog recipes, follow along on Pinterest!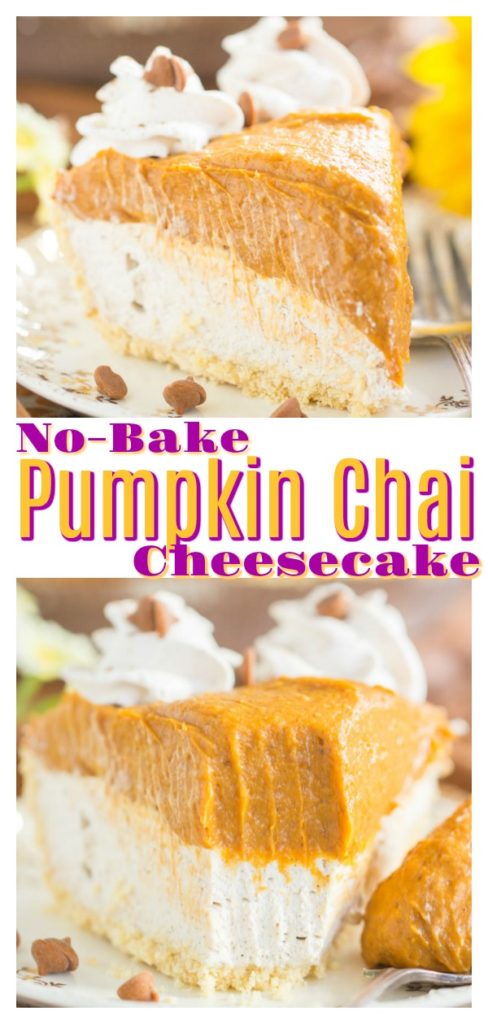 I'm really dragging my feet on fall recipes this year. I'm usually well-rested, motivated, and inspired for endless baking from September through December.
This year is different (as it is in many other ways!). I cannot get a move on! In fact, the autumn-themed recipes you've seen so far were all stragglers from last fall.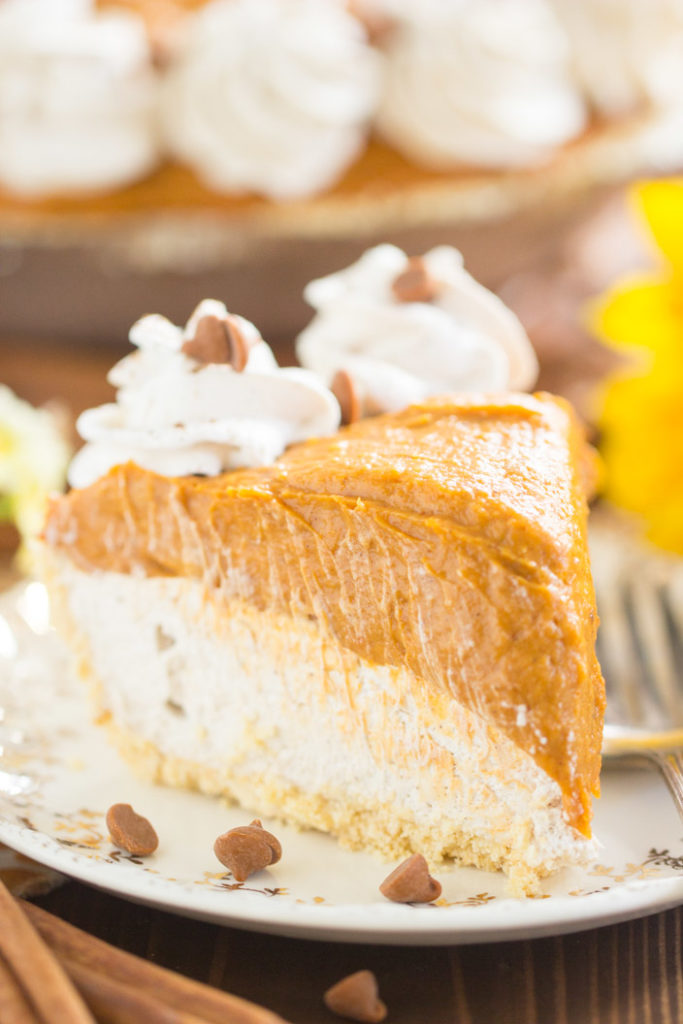 Here's another leftover, this Double Layer No Bake Chai Pumpkin Cheesecake. This one is inspired by the oh-so-classic Double Layer No Bake Pumpkin Cheesecake. Many thanks to Kraft for that gem of a dessert. I've been making it for 17 years now, and I've made so many variations.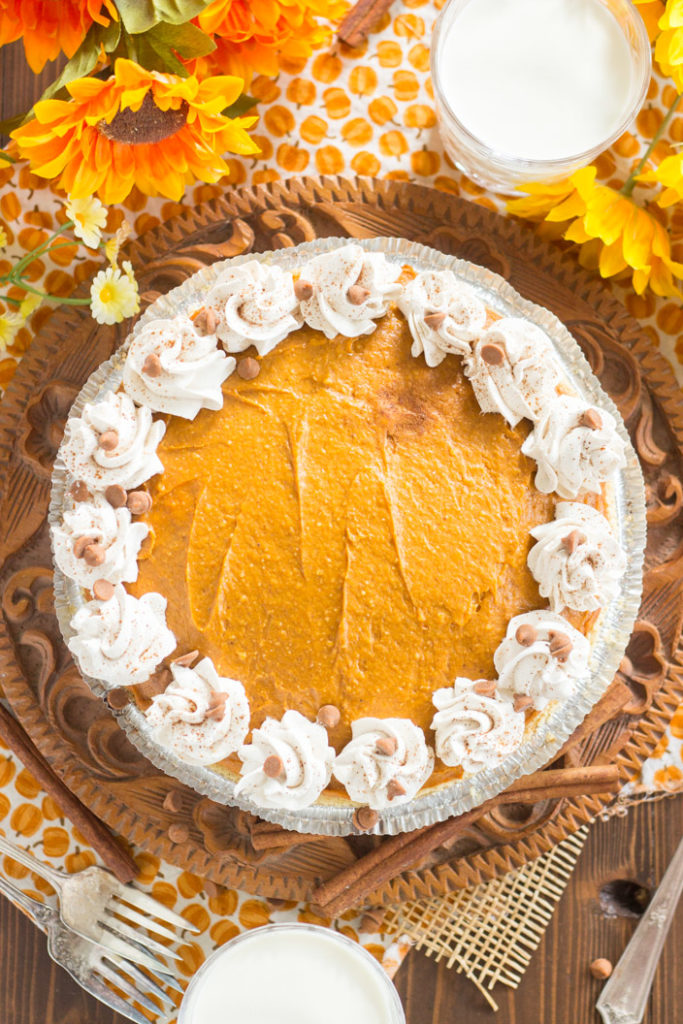 Pumpkin Cheesecake is in my household's top 5 favorite fall desserts, but if I'm in the mood for pumpkin cheesecake, and I don't feel like putting in the work (even though cheesecakes are honestly so easy) to do a baked cheesecake… you know, gotta wait for the cream cheese to soften, then mix it, it bakes for at least an hour, takes many hours to cool and chill…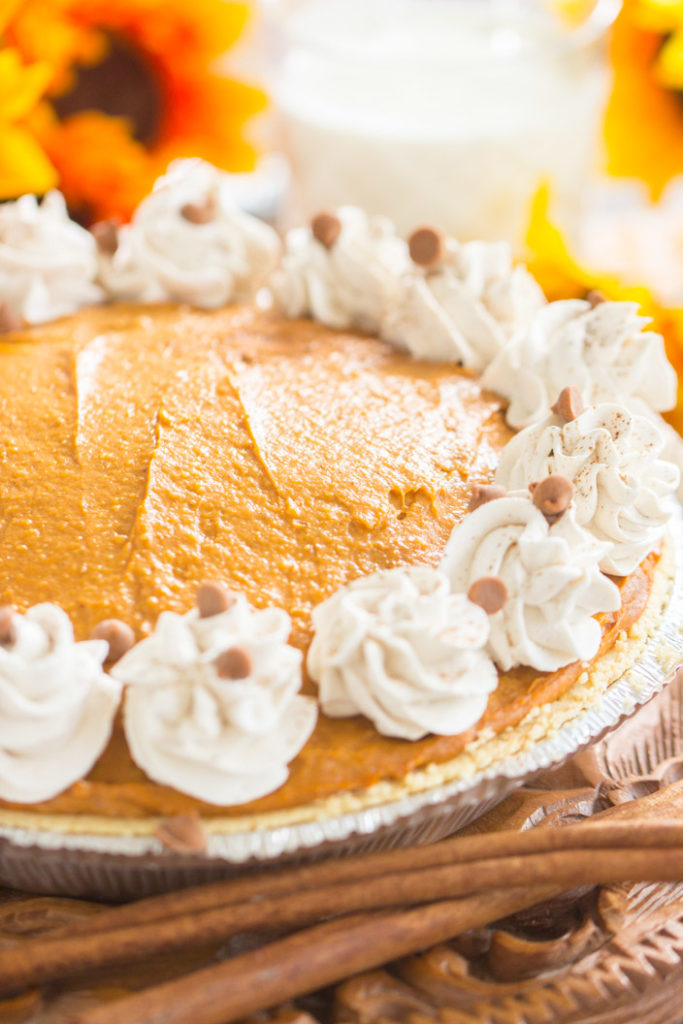 It's minimal active work, but it's lots of idle time. By contrast, this No Bake Chai Pumpkin Cheesecake preps in 15-20 minutes, you can even skip chill time if you're feeling impatient, and so you can have a fork in a slice of this in a half hour or less.
This No Bake Chai Pumpkin Cheesecake recipe won't be as fancy or elegant as a traditional cheesecake, no, but that's actually part of it's charm! This is such a casual dessert, and one that you could classify as an "everyday cheesecake", if such a thing exists. Let's make that a new term of art: everyday cheesecake.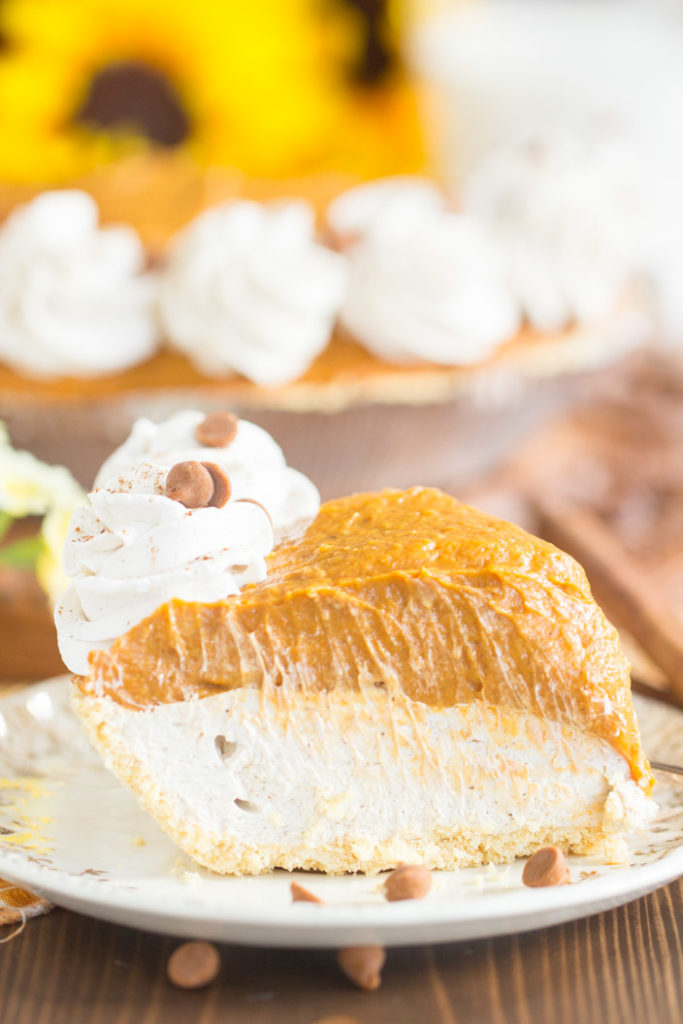 This recipe makes it so effortless to have a homemade, seasonal dessert on hand. All the awesomeness that comes with combining pumpkin, spices, and cheesecake, but casual and fuss-free.
It's also very light, not heavy like traditional cheesecake, so it's a good everyday cheesecake that won't make you feel like a stuffed turkey. It's fluffy and mousse-y, but still filling and satisfying.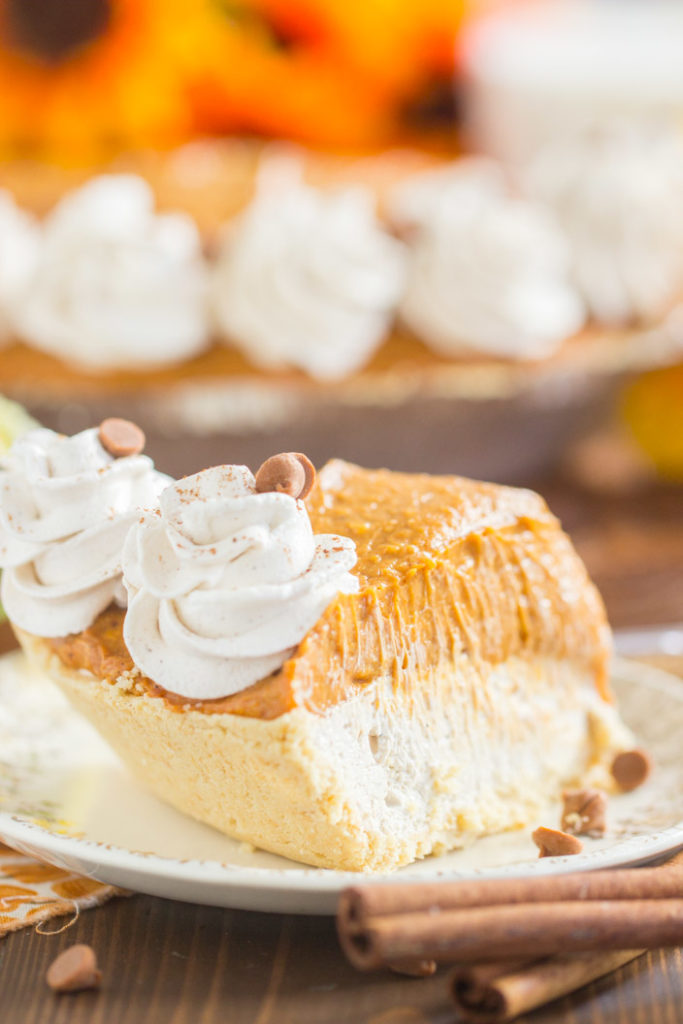 The chai component… I love chai things. The first semester I was in college, I blew through my meal points because I would pass through the student center and pick up a chai latte every morning on my way to class. I curtailed my daily chai latte habit, but when fall rolls around, I really crave them, and they're one of my favorite treats.
Chai signals fall and holidays for me, and so does this original No Bake Pumpkin Cheesecake recipe, so it felt natural to combine them!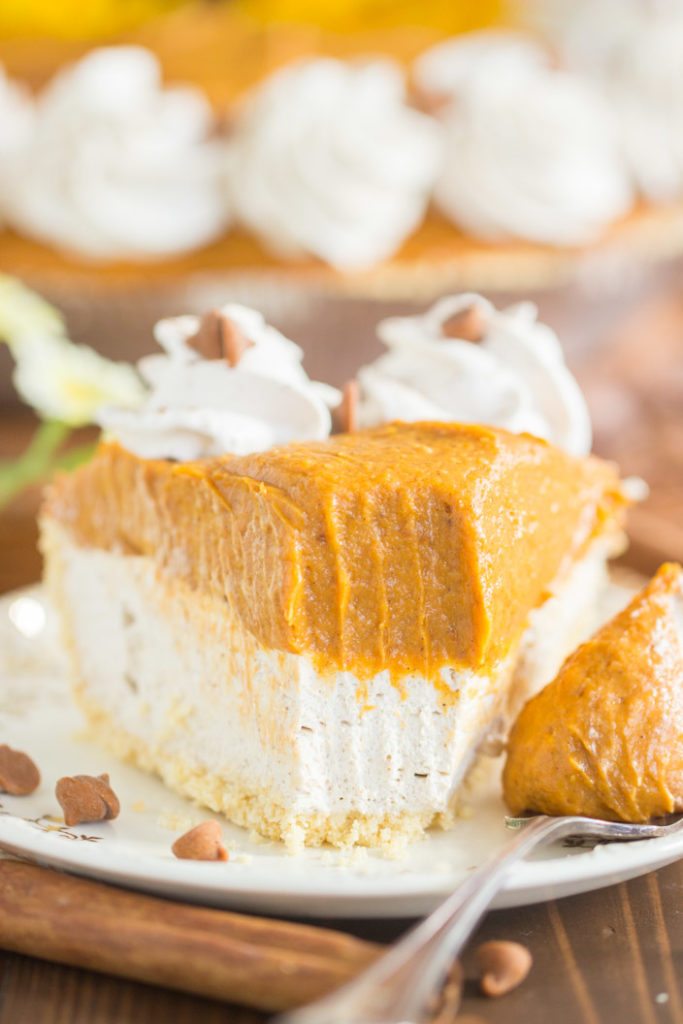 There's nothing not to adore about this No Bake Chai Pumpkin Cheesecake basically! It checks all boxes: quick, easy, delicious, and seasonal.
As I said, the classic recipe has inspired a few others now. All are no bake and ready in minutes:
Pumpkin Cheesecake is a favorite in all forms, baked or not, and I have a slew of baked options too. 🙂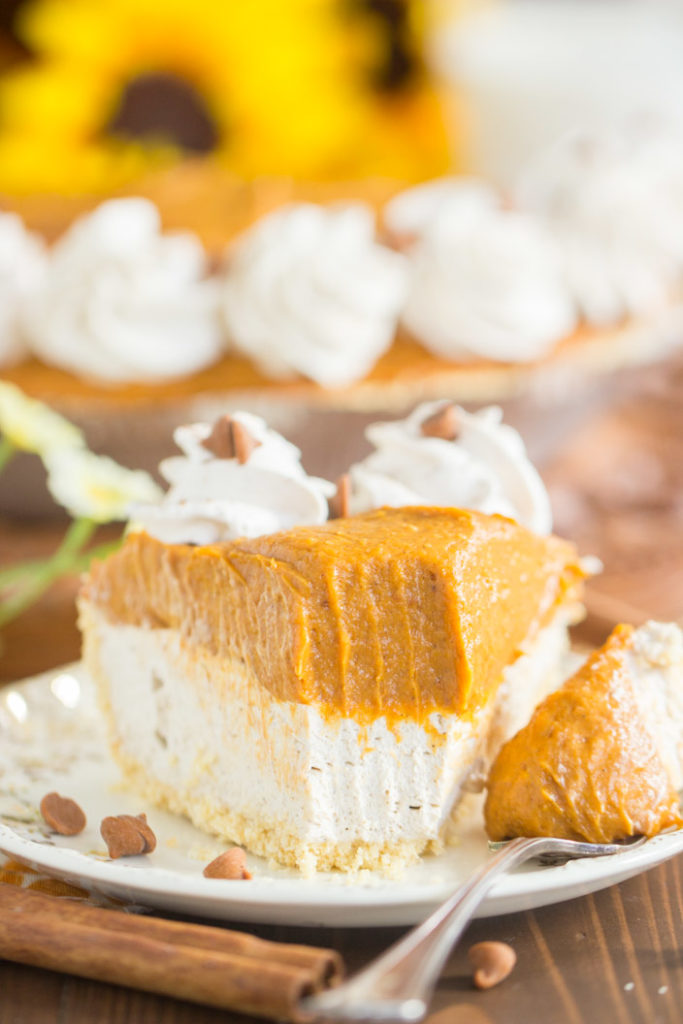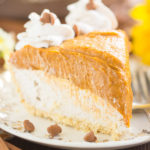 Double Layer No Bake Chai Pumpkin Cheesecake
This quick and simple No Bake Double Layer Chai Pumpkin Cheesecake preps in under 20 minutes! With just a handful of easy-to-find ingredients, this Chai Pumpkin Cheesecake is a delicious dessert for the holidays. Loaded with pumpkin, and a thick layer of creamy chai-spiced cheesecake, it's always a crowd-pleaser.
Total Time
2
hours
15
minutes
Ingredients
8

oz.

cream cheese

softened (reduced-fat is fine)

2

tbsp.

cold milk

1/2

cup

powdered sugar

1

tsp.

vanilla extract

1/2

tsp.

ginger

1/2

tsp.

cardamom

1/4

tsp.

ground clove

1/4

tsp.

cinnamon

8

oz.

container Cool Whip or whipped topping

thawed, divided

9

oz.

prepared shortbread or graham cracker crust

9 oz. is preferred, but you can cram this in a 6 oz. crust if that's the only size you can find!

3.4

oz.

box instant butterscotch pudding mix

3.4

oz.

box instant vanilla pudding mix

1

cup

cold milk

15

oz.

can pumpkin puree

1/2

tsp.

cinnamon

1/2

tsp.

pumpkin pie spice
Instructions
In a large mixing bowl, beat cream cheese, milk, powdered sugar, and vanilla until smooth.

Beat in ginger, cardamom, clove, and cinnamon.

Gently fold in 2/3 tub of Cool Whip or whipped topping (just eyeball it!). Reserve remaining for garnish.

Spread the chai cheesecake mixture into the bottom of the pie crust, taking care not to "lift" any portions of the crust as you spread.

In a large bowl, whisk together butterscotch and vanilla pudding mixes, milk, pumpkin, and remaining spices until smooth.

Carefully spread the pumpkin mixture over the cheesecake layer.

Using a star tip, pipe the remaining Cool Whip around the edges.

Refrigerate for 3-4 hours, or until firm. Cut and serve. Store leftovers covered in the refrigerator for up to a week.
Looking for other no bake pies? Check out this No Bake Peanut Butter Pie recipe, this Pecan Cream Pie, this No Bake Coconut Cream Pie, my Pistachio Pie, or this Amaretto Cream Pie!